5 Common Problems with Exercise Bikes and How to Fix Them
Estimated reading time: 6.5 minutes
Exercise bikes, also known as stationary bikes, are a convenient form of exercise equipment that can be found in the home and commercial gyms.
This is because of their convenience, easy portability, engaging features, and cardiovascular benefits a user can enjoy from exercising on a stationary bike. 
However, no matter what type of exercise bike you may own, you can always run into a few common problems with your equipment. This isn't just isolated to exercise bikes either. Treadmills, ellipticals, and many other forms of fitness equipment all have common problems that could arise that you should be aware of. 
Thankfully we are here to help walk you through any of your fitness-related problems. 
Since 1989, Akfit has operated as a Canadian specialty fitness store located in Sudbury, Ontario, serving our communities locally, within the rest of Canada, and beyond. We have a lot of clients that are interested in our exercise bike selection, and many of our customers want to know how to properly address any issues that may appear with their equipment. 
Our article will take a look at 5 common problems that you may come across when using your exercise bike and how to fix them.
In this article:
What is a Stationary Exercise Bike?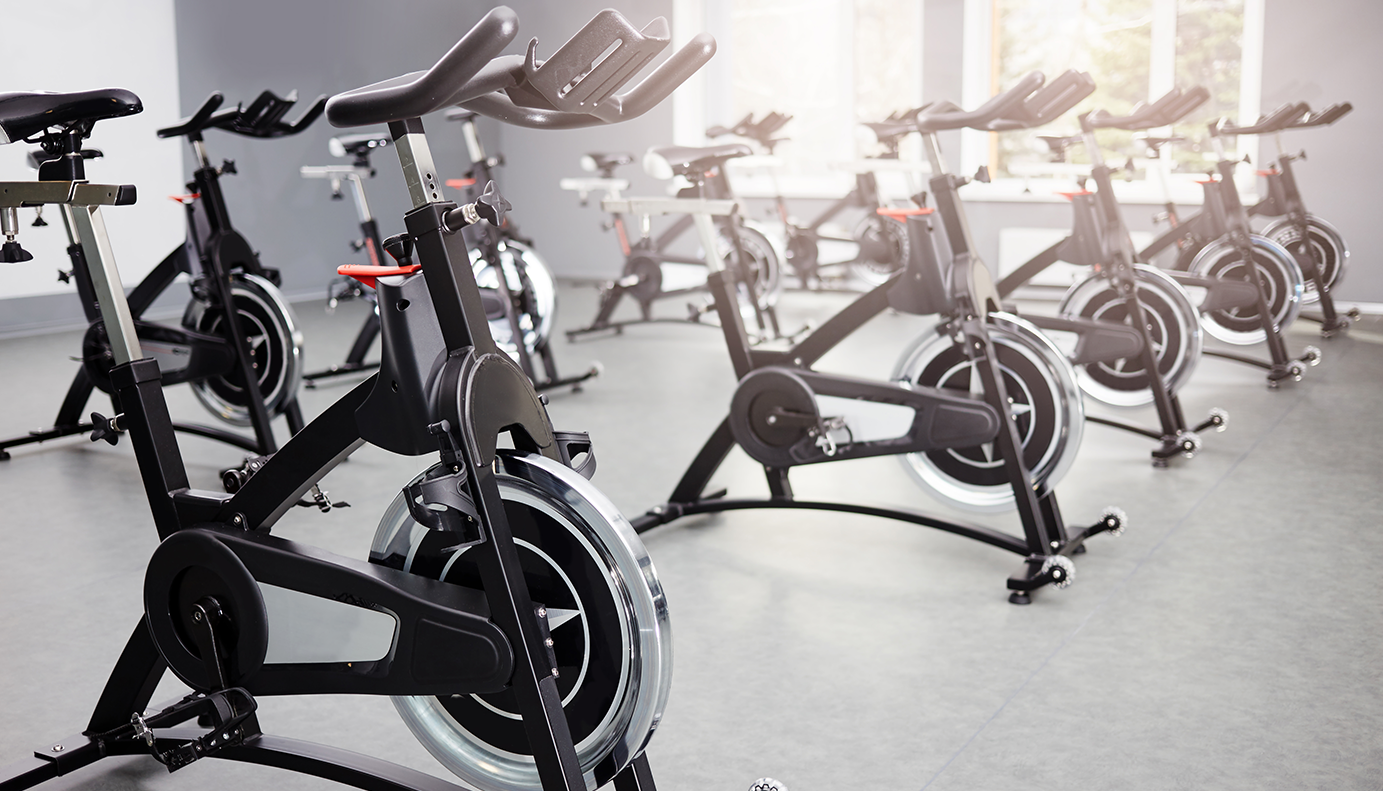 Before diving into common problems you may face, let's properly introduce stationary exercise bikes!
An exercise bike is a type of fitness equipment that allows the user to mimic the motion of cycling while being able to safely and comfortably workout indoors.
These bikes typically include pedals, a seat, handlebars, adjustable resistance levels, heart-rate monitors, and many higher-end bikes are equipped with consoles to enjoy your virtual training software programs. 
However, there are multiple types of exercise bikes including: 
Spin Bikes
Spin bikes are designed to emulate a road bicycle. The seat is usually smaller and stiff, placed at a similar height as the handlebars. This generally puts the user in a bent-over position. You can also exert more effort by standing on the pedals to increase the intensity of your workout.
Spin bikes typically have a resistance knob or lever. Through a brake pad, friction, or magnetic force, resistance is applied to the flywheel.. This is used to emulate pedaling through different gears and inclines. 
Recumbent Bikes
Recumbent bikes provide a much more relaxed seating position compared to other stationary bikes. The user actually sits in a leaned-back position when using a recumbent bike on a low seat with a backrest similar to a chair
The position that you take on a recumbent bike will promote less stress on your back and core. This is because your back is rested in a more natural position.
These bikes are also stationed at a lower height making them easy to access. This makes the recumbent bike a more ideal bike for those who aren't as mobile or are dealing with an injury. 
Dual Action (Air) Bikes
Rather than featuring a flywheel, the dual action bike (also known as an air bike) features a big fan blade that creates resistance. 
The air resistance generated from the fan blade affects the resistance of the pedals, making the resistance reliant on the blade and how fast you pedal. The majority of dual action bikes also include covers that you can open and close to control the level of airflow hitting the blades
Dual action bikes require the user to sit in an upright position and in comparison to other forms of exercise bikes. Further, they do not require any electricity, making them an ideal bike to fit into a home gym setup where space is limited. 
Upright Bikes
The upright bike is named after its seating position. The user sits in an upright position with the handlebars set above the seat. While the seat and handlebars can be adjusted, you'll naturally be using this bike in a more neutral, and upright position compared to other exercise bikes.
These types of exercise bikes tend to feature a magnetic resistance system with the resistance being controlled with buttons placed either on the handlebars or the console. 
For more information, check out our In-Depth Comparison of the 4 Different Types of Stationary Exercise Bikes.
5 Common Problems with Exercise Bikes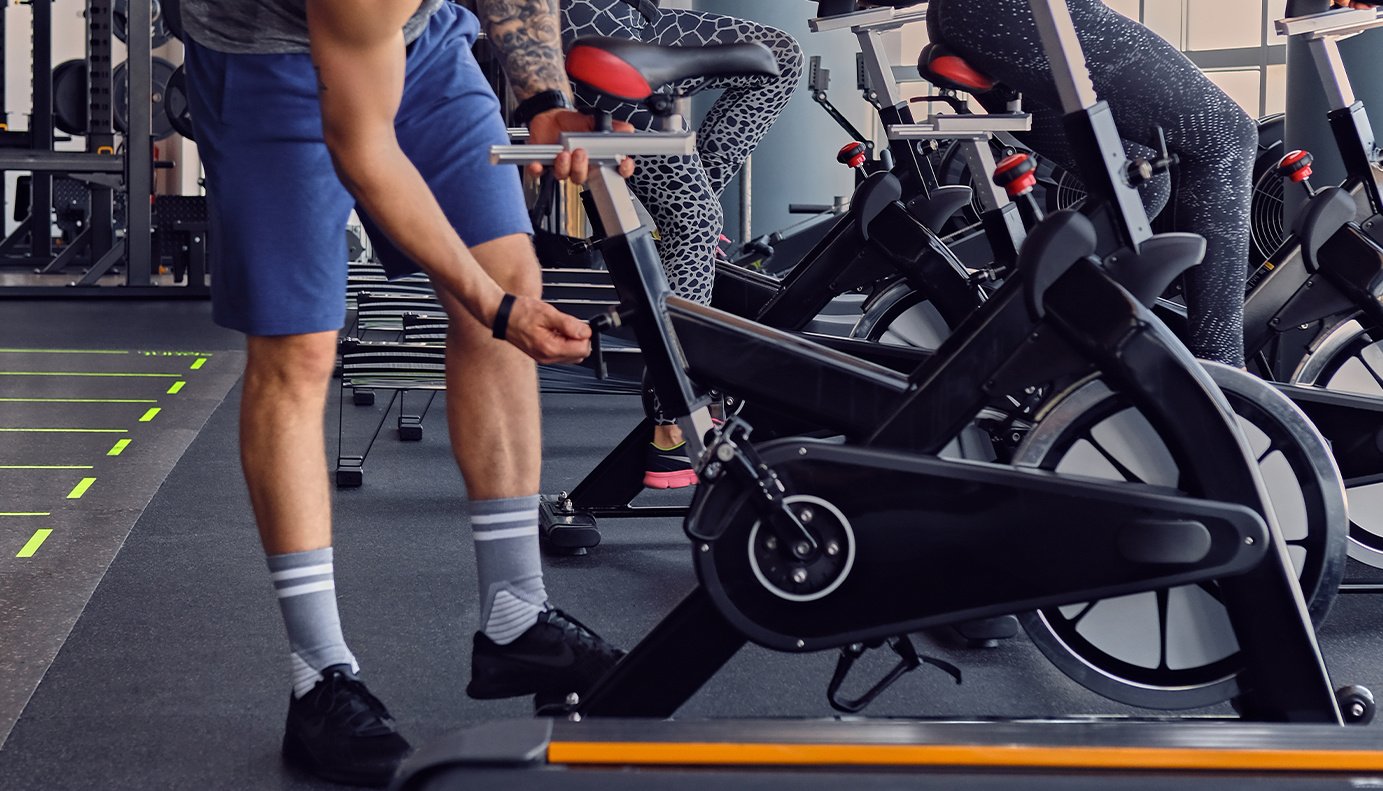 Here are 5 common problems you may encounter with your exercise bike, and how to properly address them: 
1) Unfamiliar Noises
Many manufacturers may promote that their exercise bike operates with a quiet and smooth experience. While this may be the case, you may find yourself rather confused if you find that your exercise bike begins to make unfamiliar sounds. 
Before making any assumptions, you should identify where the noise is coming from. In most situations, an unfamiliar sound is most likely coming from the pedals, belt, or wheels. Whichever part it may be, it likely needs to be detached and lubricated or tightened and loosened. 
If the pedals are specifically the problem, make sure to check out the threading first. It is possible that your pedals are worn out and need replacement. If the pedals don't sit at 90 degrees to the crank arm, you will need to replace them. 
It is also possible that the threading has become cross threaded or broken. If this is the case, then you will need to contact a service center such as Akfit so the entire pedal arm can be replaced. 
2) Resistance Issues
When using your exercise bike, you could run into an issue where you notice that there is either minimal change in resistance to your workouts, or there is no resistance applied whatsoever. 
The most common reason why you may have resistance issues is due to cross cabling or bent pins. However, a wobbly resistance wheel could also be that cause. If this is the case, then the hub should be replaced. 
If your exercise bike features a magnetic resistance system and you experience resistance issues, it may be due to the magnets shifting from their position because of loose bolts or screws. To fix the issue, make sure the magnets are secured properly in their designated position. 
The magnetic resistance can also experience issues if the wiring running to the resistance control of the magnet is faulty. In this case, contact a service center. 
3) Inconsistent Heart-Rate Readings
The heart-rate monitor is a desirable feature for any type of cardio equipment, especially for those looking to build up their cardio health in a safe manner. However, with any technology, sometimes parts can falter. Heart-rate monitors are no exception, and you may find your monitor providing you with very erratic readings.
Thankfully, in most cases, this is a relatively easy fix. Check to make sure that the heart-rate grips/straps are tightened firmly to the body of the bike. If the heart-rate monitors are loose, your readings won't be as accurate as you need them to be. 
However, keep in mind that heart-rate monitoring is not an exact science. When it comes to reading your heart-rate, you should take the reading the machine is giving you as a range or base of where you are at and not as an exact measurement. 
4) Belt Slipping
If your drive belt is worn down, you may start to feel the belt commonly slipping. This can be a common issue if you use your exercise bike frequently as the drive belt takes on the most pressure from your workouts. 
A slipping sensation in your drive belt should not be ignored as it could result in a serious injury. In the case of your drive belt slipping, it should be tightened or replaced immediately. 
Before you attempt to tighten the drive belt, make sure the bike is unplugged or powered off. Remove the two pedals and then remove the sides and the top shields. Doing so will provide you access to the belt and flywheel. 
In order to tighten the belt, adjust the idler bolts and the adjustment nut. If you are going to replace the belt, make sure to have the proper replica part that you need for your bike.
To replace the belt, make sure to release the tension cable attached to the magnetic resistance motor. Afterward, remove the eddie mech, then you can remove the worn belt. 
If you are unsure about how to properly disfigure your exercise bike, refer to your owner's manual, or you can contact us for service on your fitness equipment. 
5) Display Console Not Working
The console is a popular feature of most cardio fitness equipment as they often provide you with important data for tracking your workouts. 
However, if you notice that your console is not working properly or won't power on all together, it could be the result of a couple of different issues. 
Loose cables within your exercise bike may be the cause of your display not working, or you may not have enough power going to the machine itself. Make sure to check that your power adapter is plugged in properly or replace the batteries. 
If the problem still persists you may want to contact a fitness professional to diagnose the problem with your equipment.
Reach Out to Akfit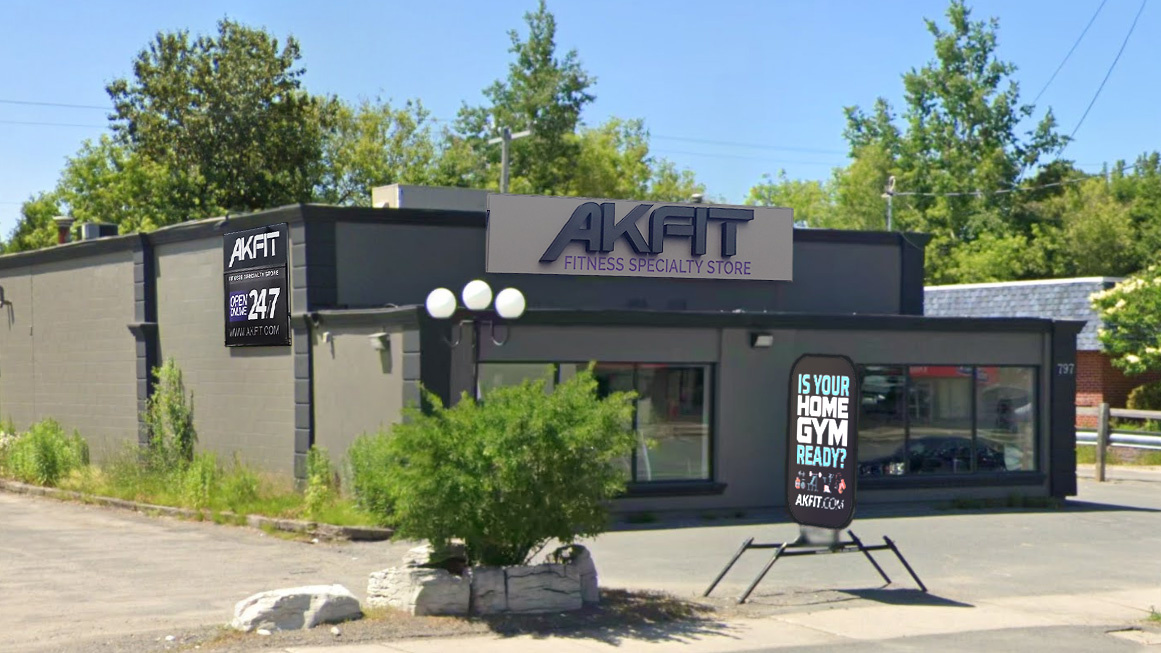 While problems with your fitness equipment can arise at any time, a lot of issues can be prevented by performing regular maintenance on your fitness equipment. If you are new to equipment maintenance and unsure of where to start, you can always check out our preventative maintenance plans and equipment servicing we offer. 
We also highly recommend reaching out to us with any of your fitness-related questions and needs. Over the last three decades, our fitness professionals have worked closely with our loyal customers to help them find the right equipment for them and what they need to reach their fitness-related goals. 
You can always book a virtual meeting with our fitness experts, or visit us in-store at our Sudbury location. 
If you are still undecided on which exercise bike may be right for you, start by checking out our 5 Best Selling Spin Bikes at Akfit. 
If you already have decided on which exercise bike is right for you, we are also happy to offer delivery and installation services. Our service doesn't stop there either, because our fitness professionals can also teach you how to safely use your equipment as well.  
Wherever your plans may be for your fitness journey, we at Akfit are here to help you achieve your goals.