Best Exercises and Equipment for Lower Back Pain
If you suffer from lower back pain, you may think that you should avoid exercise altogether, but in many scenarios, cardio exercises can be good for you. 
However, it is also important to talk to a doctor before engaging in any workouts if you suffer from lower back pain. After all, you wouldn't want to hurt yourself further if your back pain is a sign of something serious. 
Back pain can affect people of all ages! No one is immune to it and it is a condition that can worsen. In fact, according to the National Institute of Neurological Disorders & Stroke, about 20% of those who suffer from acute back pain eventually suffer from chronic back pain.
Lower back pain is a very common problem worldwide. In 2017 it was estimated that about 7.5% of the global population suffer from some form of lower back pain.  
So if you happen to be someone who falls into this category, it's important to find the right exercises and equipment that doesn't put too much strain on your back. These specific forms of exercise can be safe for your back, and perhaps even improve your back pain. 
This article will explore the different types of exercise equipment that you can safely utilize if you suffer from lower back pain. 
In This Article: 
What Causes Lower Back Pain?
There isn't one reason why someone may suffer from lower back pain, after all it is such a common problem because of the variety of situations that can contribute to it. 
Lower back pain can be caused by injuries, congenital issues, degenerative problems, spinal cord and nerve issues, and also many non-spinal health issues, such as stress, pregnancy, or strain from everyday life.
Risk Factors for Developing Lower Back Pain
Similar to what can cause back pain, there are many risk factors for developing any of the above issues that can provide lower back pain. Some of these risk factors include:
Older age.

Poor fitness levels.

Genetics.

Being overweight or a sharp increase of weight gain which puts stress on the back.

Smoking.

Psychological factors such as stress, and poor mood. 

Mental health issues such as depression and anxiety. 

Carrying heavy loads on your back.

Job-related factors that include heavy lifting, pulling, twisting or any activity that can lead back injuries. 
The Best Exercise Equipment for Lower Back Pain
If you suffer from lower back pain, but you still want to invest in fitness equipment, it is important to know which is the right equipment for you. 
Engaging in the wrong exercises can be critical to the health of your back. It's important to always talk to a doctor to have your condition diagnosed before exercising your back. 
Elliptical Trainers
Elliptical machines are a highly encouraged cardio machine to engage with if you suffer from lower back pain. These machines provide the user with a low-impact cardiovascular which is easier on your joints than running on a treadmill.
Since your feet are always supported by the pedals with each movement, the elliptical mimics the natural walking stride without the significant impact of your feet hitting the floor or a walking belt. 
The smooth motion of ellipticals avoids the jolt of putting pressure on your bones, joints, and the shock that moves up from your legs to your spine. 
However, it is important to note that utilizing the moving handlebars on your elliptical machine could cause a twisting motion on your back. Make sure your condition is diagnosed before you decide to utilize the full-body workout features elliptical machines can provide. 
At Akfit, we sell an inventory of ellipticals for personal and commercial use. These machines cost anywhere from $1,200 to $3,850.
Steppers or Stair Climbers
Compared to the elliptical, stepping machines have platforms (steps) for your feet rather than a belt that advances to the rear like a treadmill. 
However, the movement in the stepper is much more limited than the elliptical and your motion is shorter as you are essentially climbing in place. This motion provides another low-impact workout alternative that doesn't provide significant pressure on your joints. 
Depending on your machine, or back condition, you may or may not be able to utilize any handlebars along the side. Balancing without a rail or handlebars could be too difficult to handle depending on the type of back pain you're suffering from. Further, you can also make your back rigid if your dependence on any railings provide extra movement to your back. 
At Akfit, we sell a variety of steppers for personal and consumer use. These machines cost anywhere from $1,400 to $4,850. 
Stationary Exercise Bikes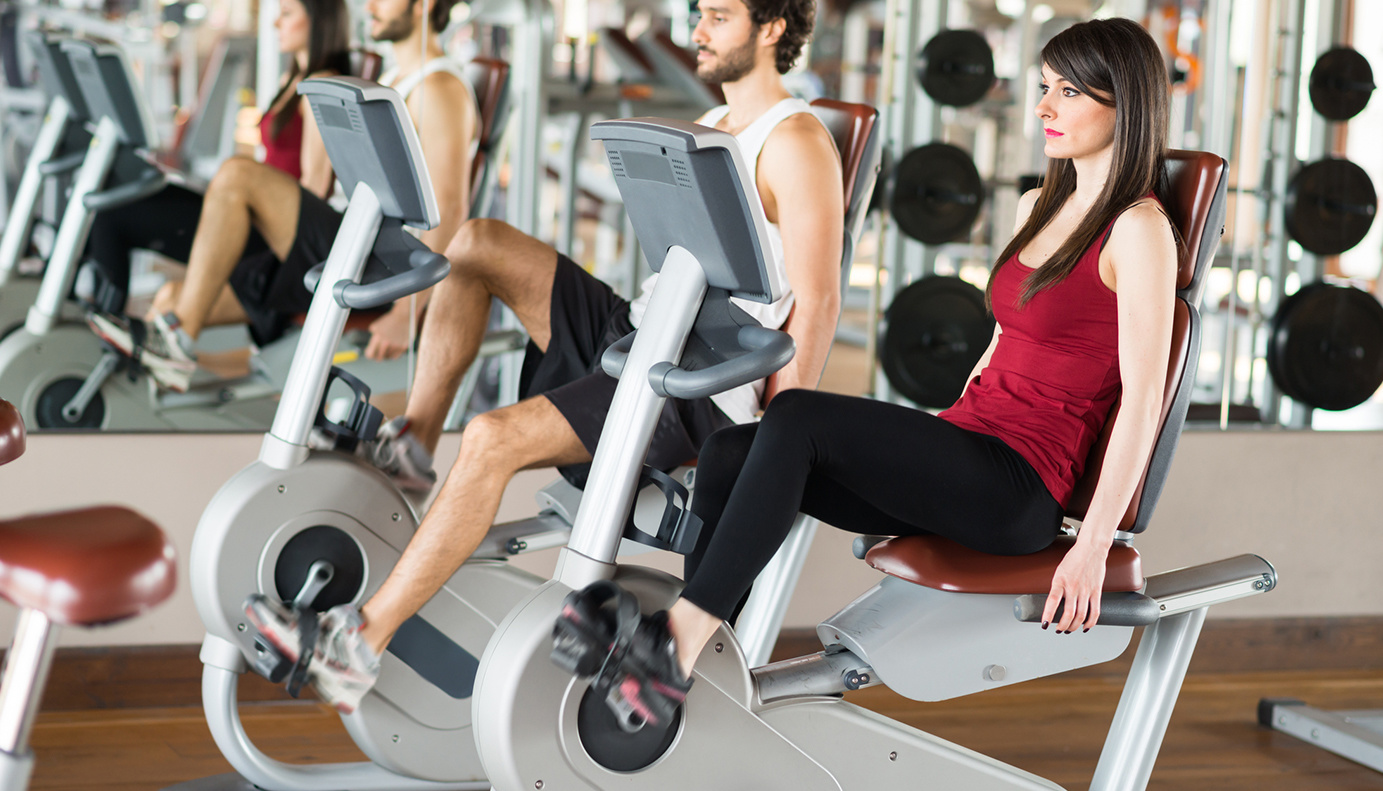 If you are looking for a cardio workout while dealing with lower back pain, there are two different types of exercise bikes that can be safe to use: Upright bikes and recumbent bikes. 
DO NOT exercise on a spin bike if you suffer from lower back pain. These bikes are designed for the user to be bent over to mimic traditional cycling. This position puts additional stress on your spine's lumbar curve. 
Upright bikes are slightly safer because depending on how the seat and handles are adjusted. The position you will be in will require a slight lean forward. In fact, slightly leaning forward can provide pain relief for some medical conditions that result in lower back pain. 
However, this isn't always the case for everyone. For a more comfortable experience, the recumbent bike may suit your needs.
On a recumbent bike, the user sits in a comfortable leaned back seat.. The seat is also placed at a lower height than other exercise bikes providing the user the ability to easily hop on. These bikes are unlikely to irritate your back. 
Both of these stationary exercise bikes provide low-impact cardio workouts, similar to ellipticals and steppers that don't provide the same pressure on your joints that running would. 
At Akfit, your library of upright bikes and recumbent bikes cost anywhere from $798 to $2548.
10 of the Best Exercises for Lower Back Pain (No Equipment Required) 
Aside from utilizing the cardio machines listed above, there are a few other exercises you can perform that are safe and helpful for your back. These exercises include: 
Partial Crunches
To perform these exercises, lay on your back with your knees bent and flat across the floor. Place your arms crossed over your chest or behind your head. Tighten your stomach muscles and begin to raise your shoulders off the floor. Don't lead with your elbows or arms. Hold this position for a second and slowly lower yourself.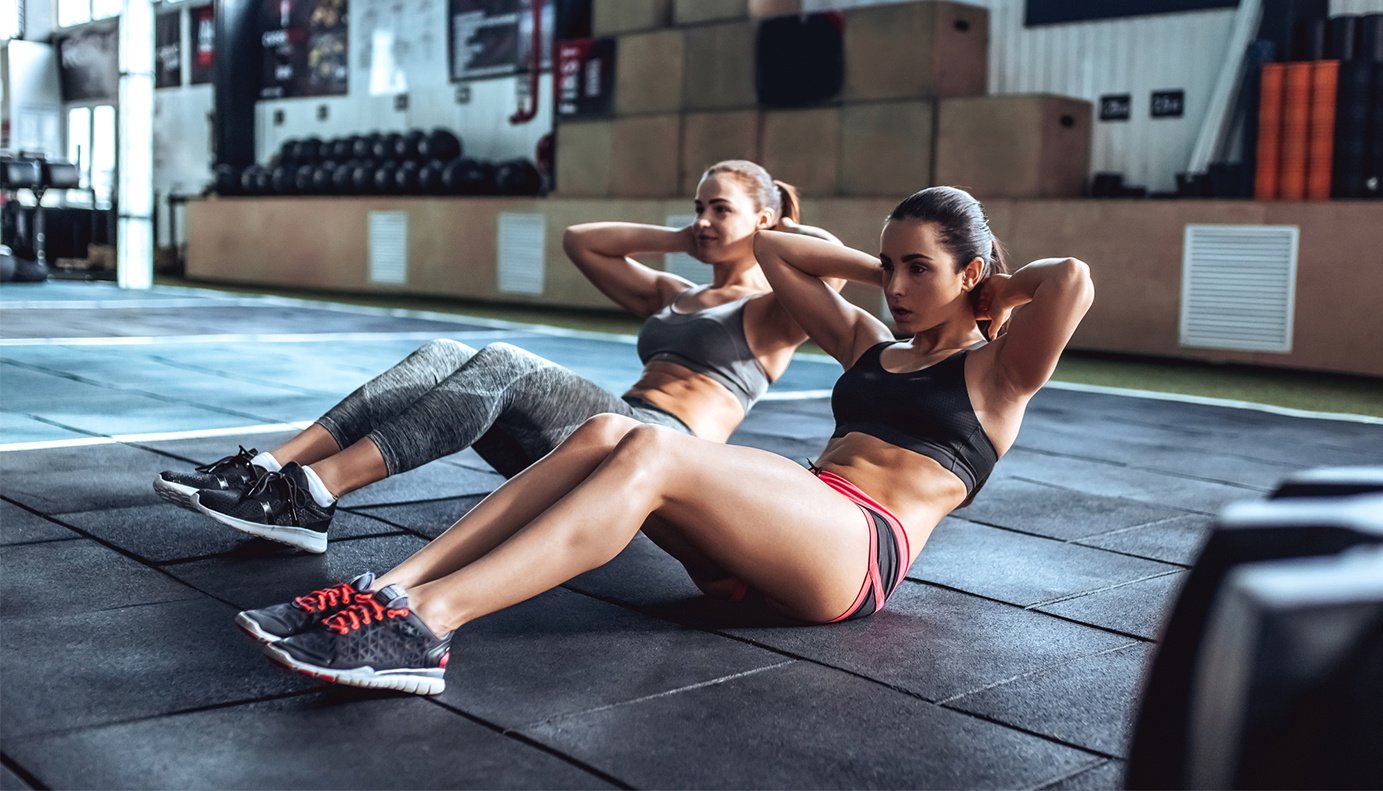 Hamstring Stretches
Lay on your back and bend one knee. Extend your other leg upright and wrap a towel around the ball of your foot. Slowly pull down on the towel, in doing so you should feel a stretch down the back of your leg. Perform this exercise for 15 to 30 seconds twice in each leg.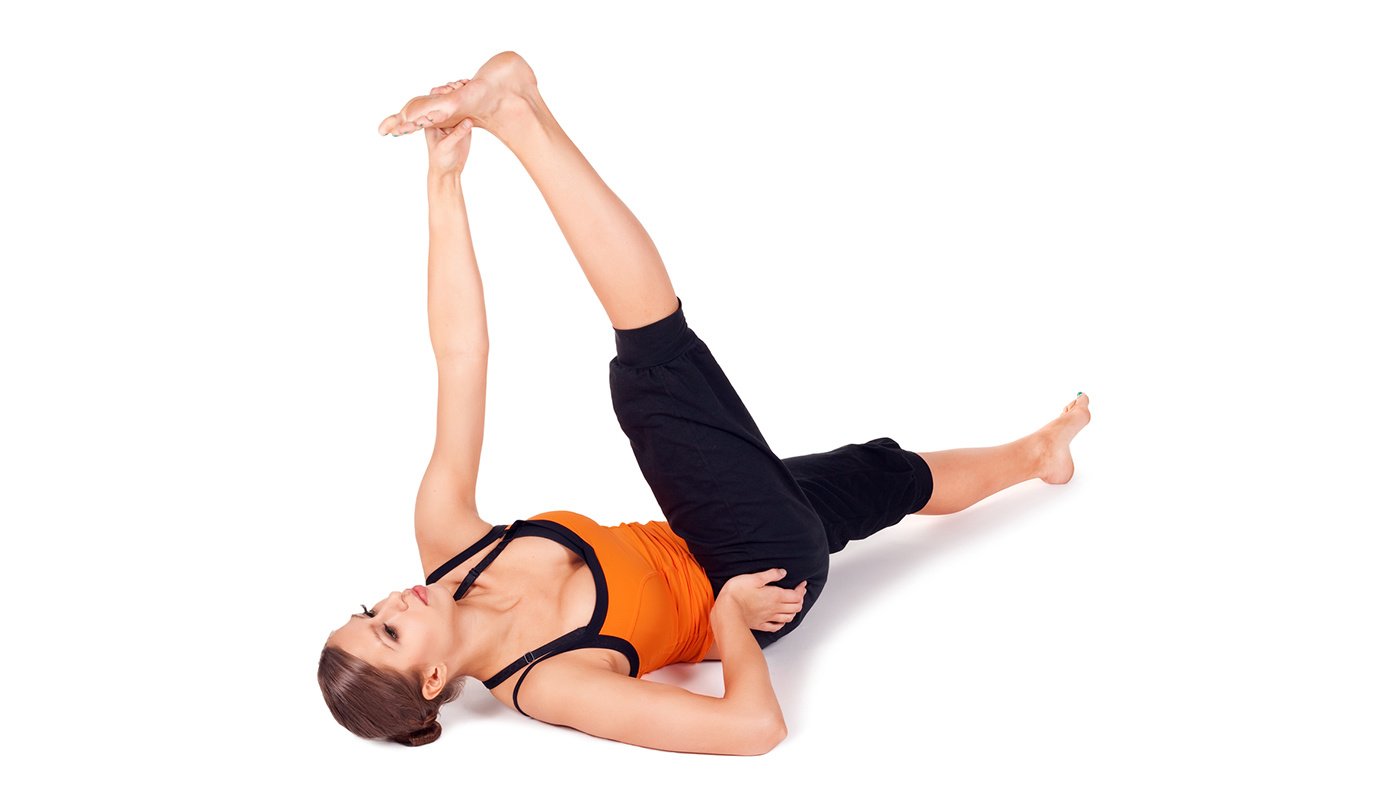 Wall Sits
Lean your back flat against a wall, and then slowly slide down the wall until your knees are slightly bent, mimicking a seated position and pressing your lower back into the wall. Hold this position for 10 seconds at a time and then carefully slide back up the wall. Perform this action 8 to 12 times.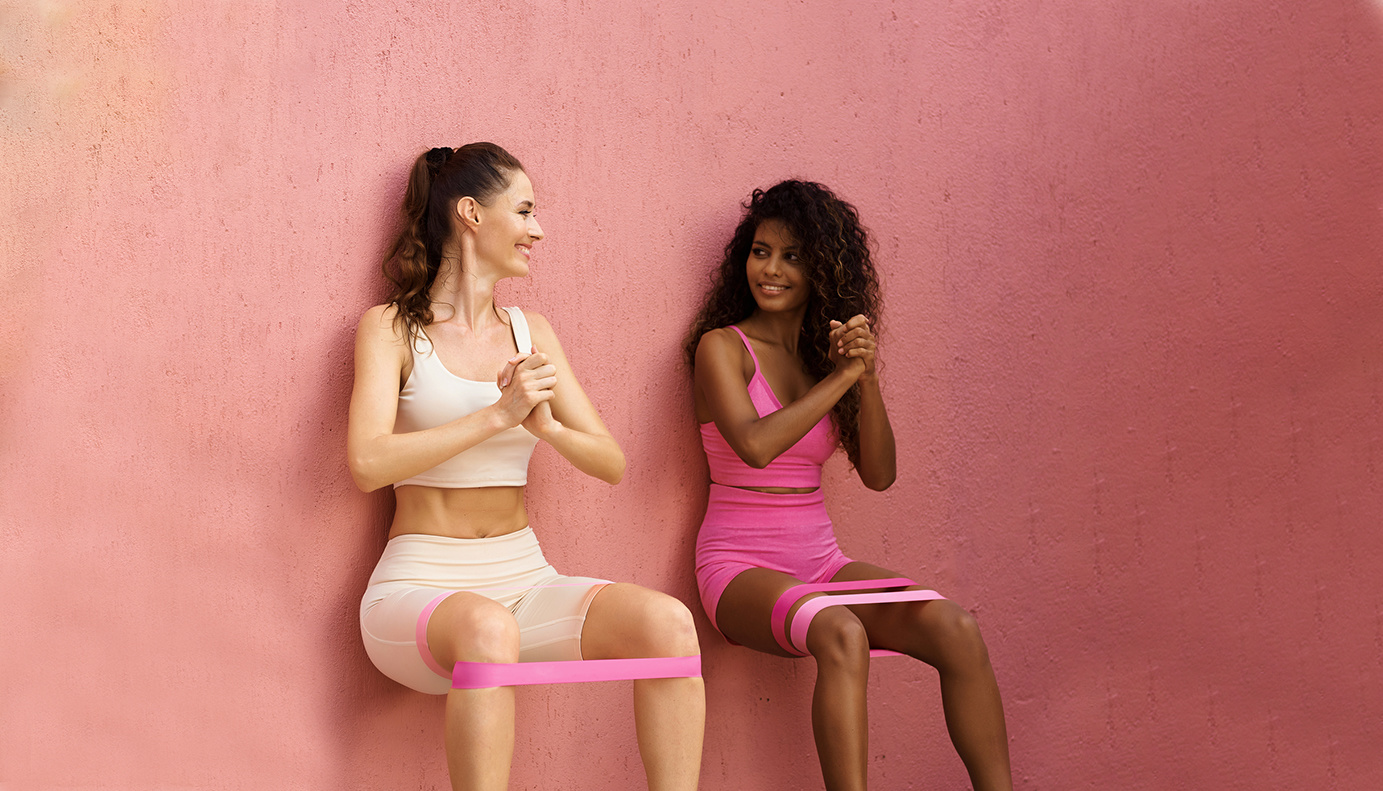 Press-up Back Extensions
Lay down on your stomach, place your hands under your shoulders in front of you. Push with your hands lifting your shoulders from the floor. If you feel comfortable, place your elbows directly on the floor underneath your shoulders and hold this position.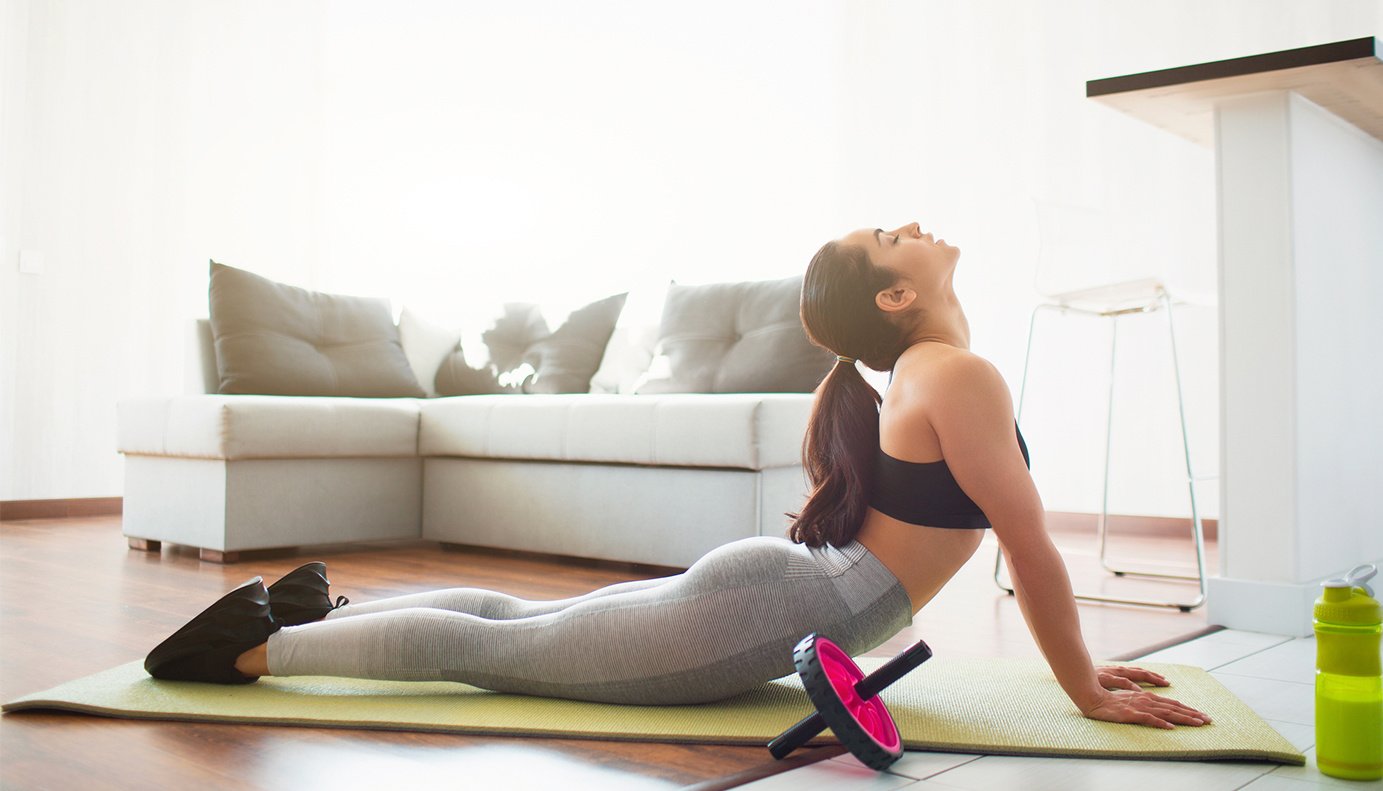 Bird Dog Pose
Place yourself on your hands and knees on the floor. Lift and extend one leg behind you and hold for 5 seconds, and then repeat this act with the other leg. If you feel comfortable you can also lift and extend the opposite arm for each repetition.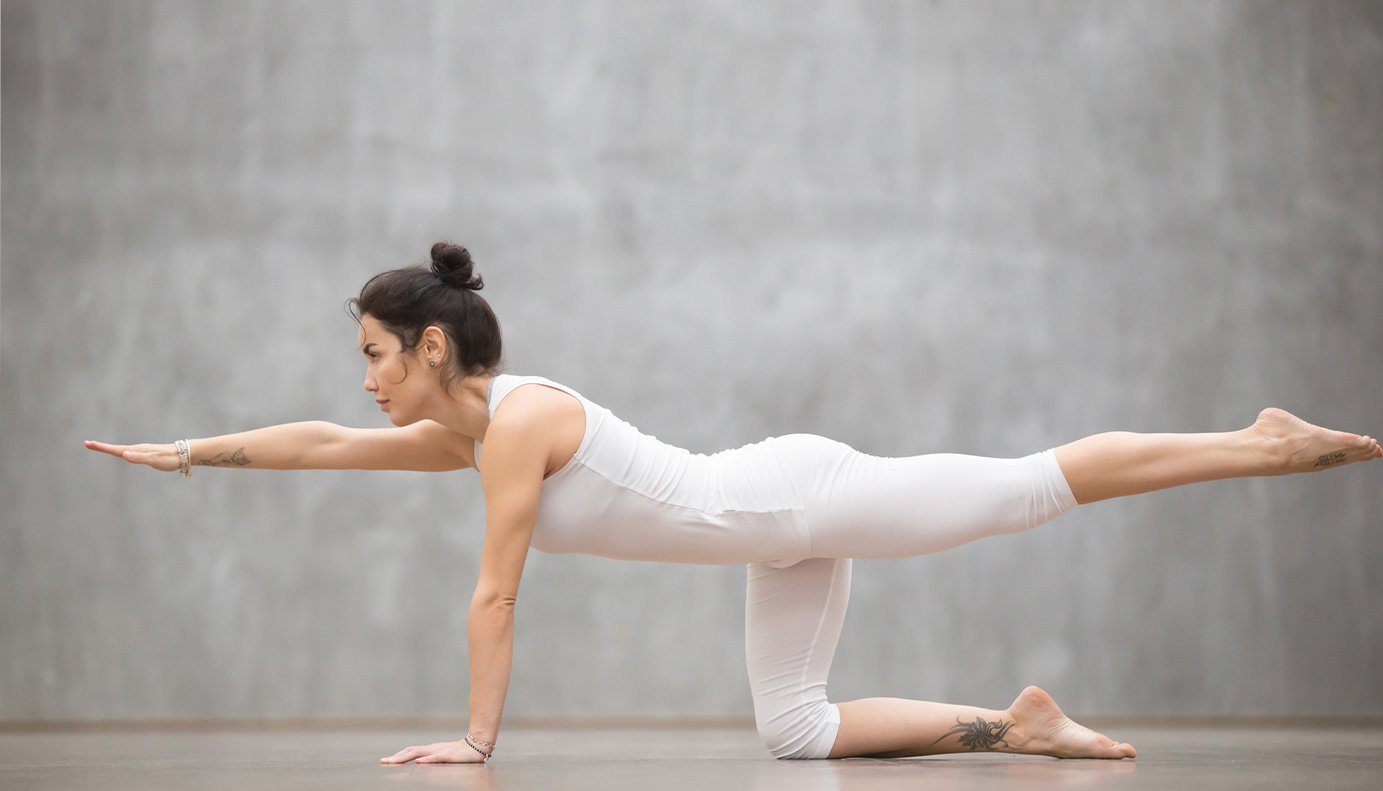 Knee to Chest Stretch
Lay flat on your back with your feet flat on the floor and your knees bent. Bring one knee to your chest while keeping the other foot flat on the floor. Hold this position for 10-15 seconds and then repeat this motion with the opposite leg.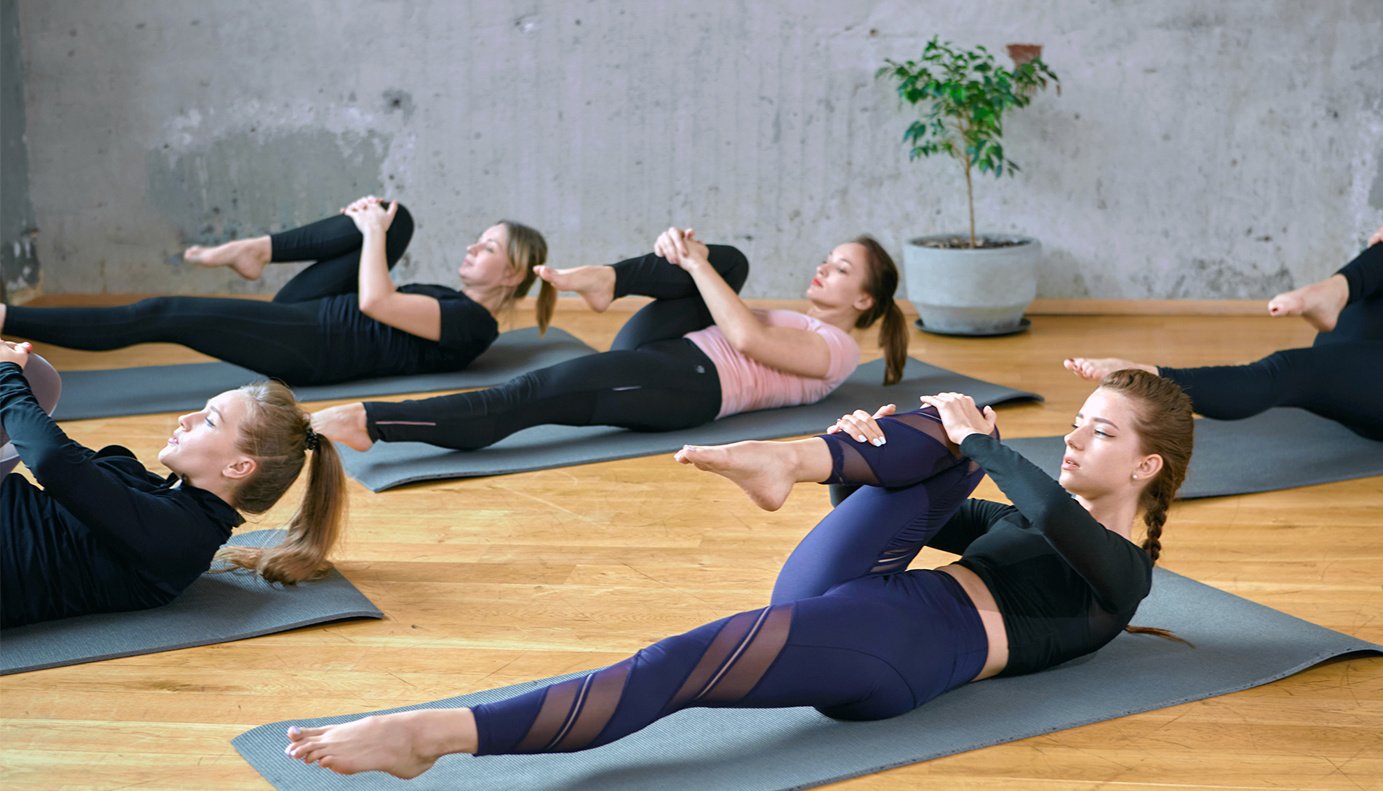 Pelvic Tilts
Lay flat on your back with your knees bent and feet flat on the floor. Then tighten your stomach by contracting it. Hold this position for 10 seconds while smoothly breathing in and out.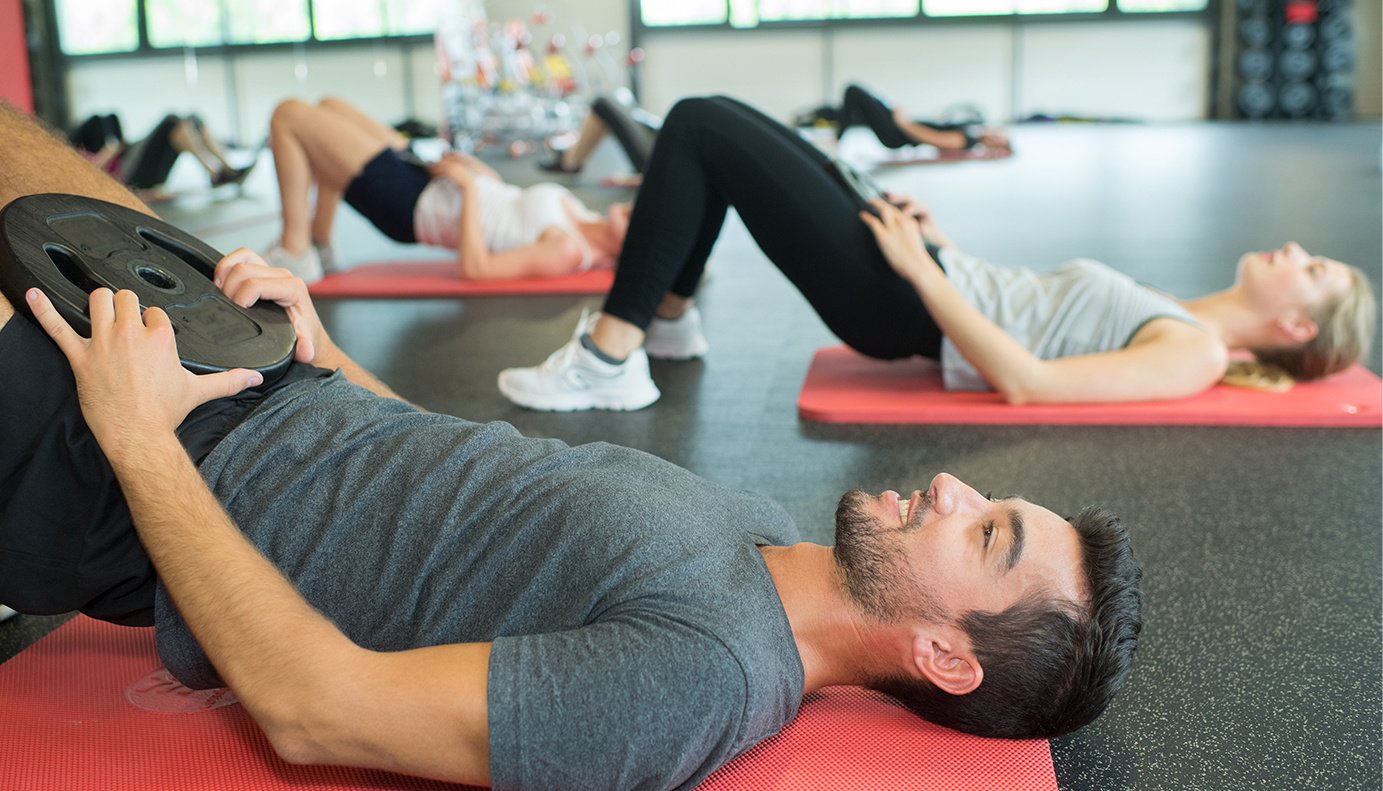 Bridging 
Lay on your back, bend your knees so only the heels of your feet are in contact with the floor. Lift your hips off the floor until your knees, hips, and shoulders align in a straight incline. Hold this position for about 6 seconds and then slowly lower yourself back down. Avoid arching your lower back in this process.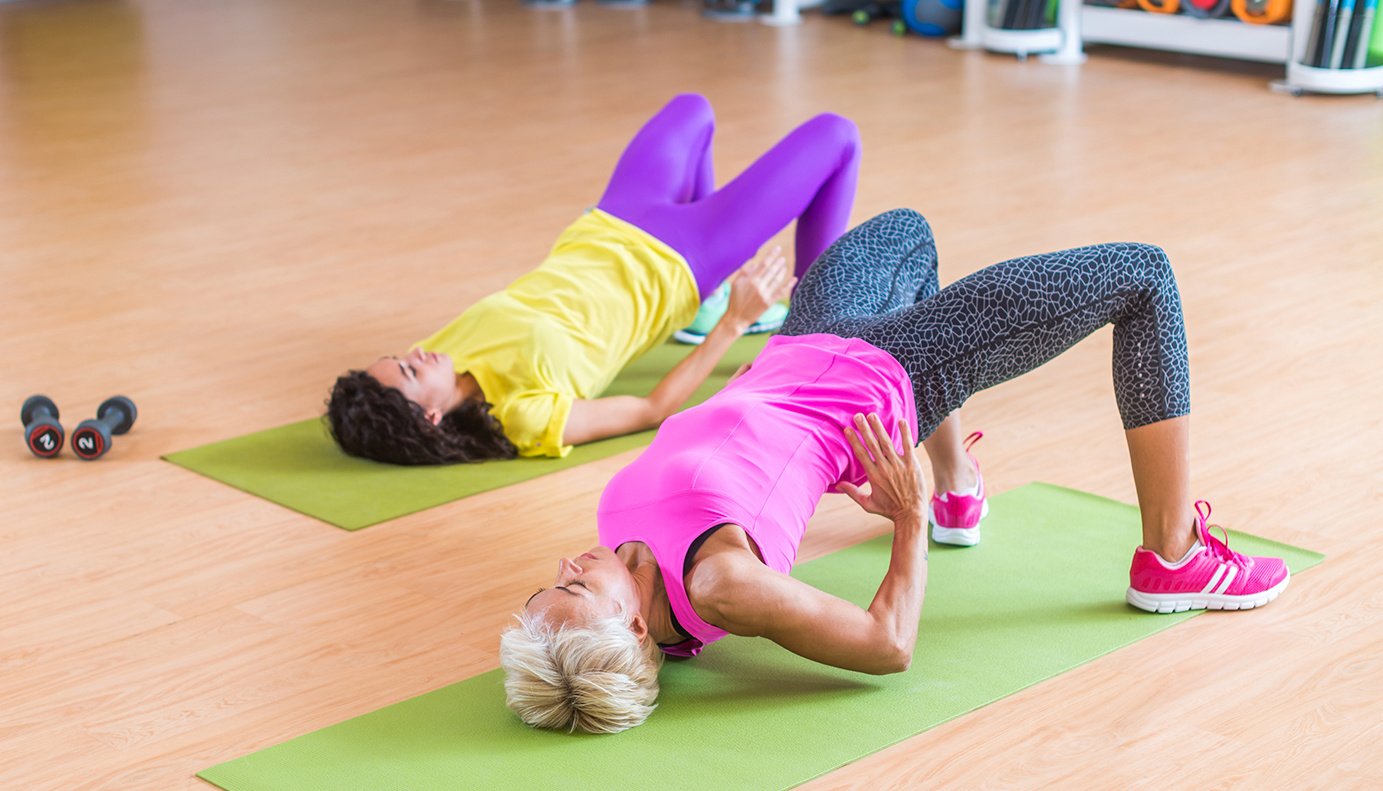 Swimming
Make sure to discuss with your doctor if swimming is safe for you, but it can help with lower back pain as the water supports your body. Start with short sessions and then work your way up over time. You should also avoid any strokes that may twist your body. 

Pilates Exercises
With the instruction from an experienced teacher, some pilates moves can help with back pain. Pilates offers a mix of strengthening and stretching core abdominal muscles. Make sure to share with your teacher or instructor that you are suffering from back pain before engaging in these activities. 

Purchasing Your Gym Equipment at Akfit
Since 1989, Akfit has operated as a Canadian specialty fitness store located in Sudbury, Ontario. We have been serving our clients in Northern Ontario, the rest of Canada, and beyond by providing quality equipment and sharing our expertise. 
Our fitness professionals will work with you to find the equipment that feels comfortable, matches your fitness goals, and fits within your budget. 
We house a variety of cardio equipment for sale in Canada that you can engage with if you suffer from lower back pain. 
If you are unsure of which equipment may be right for you, we encourage you to reach out to us with any fitness related questions you may have. You can easily book a virtual meeting here or you can visit us in-store at our Sudbury location. 
If you already decided which one of our products you would like to purchase, you can also request delivery and installation. And it doesn't stop there either, when we install your equipment, we will also show you how to safely use it. 
Whichever fitness related questions you may have, we at Akfit look forward to hearing from you.