How To Maintain Commercial Gym Equipment
With advancements in fitness technology, it can be difficult to know how to maintain commercial gym equipment after purchasing it. We at Akfit understand this common question from providing fitness equipment to a wide range of commercial facilities for over 30 years. 
A lot of the pride we take in the equipment we sell is helping customers establish an effective maintenance and service plan right out the gate so that they can make the most of it. Given the positive results from our clients, we want to share some of the key aspects of maintaining your commercial gym equipment in order to achieve optimal performance and longevity.
In This Article....
Why It's Important to Maintain Commercial Gym Equipment
Just like with fitness routines, good gym equipment maintenance depends on creating a strong foundation in the beginning and maintaining consistency throughout. By doing so, you're taking advantage of the most effective way to prolong your equipment's performance, quality, ensuring that it's enjoyable, and decreasing the likelihood of injuries. 
When starting to maintain new equipment, there are several important reasons why you want to make sure you are doing things correctly.
Health and Safety
The key to achieving a healthy and safe workout space in your gym lies in the maintenance you put into your equipment. Regularly cleaning equipment is important for removing sweat, bacteria, and germs. It also is one of the most important maintenance routines to make sure that your equipment functions properly.
Establishing preventative maintenance routines for your gym equipment is the best way to ensure that it is safe to use and to limit any major equipment failures. Routine maintenance provides assurance that your members can use all equipment safely.
Equipment Longevity
Commercial gym equipment is an investment, and you want to get the most out of it. After you purchase gym equipment, it's crucial to establish routine maintenance and service for it. That's something that we at Akfit work with our clients to do right away, because having proper maintenance and service plans in place extends the life of your machines for years. Less wear, fewer repairs, and consistent performance.
Quality Performance and Experience
At the end of the day, the equipment in your gym is there to service your members. The quality and performance of your gym equipment dictates the atmosphere of the gym and the workout experience. Maintaining your machines not only keeps things clean and inviting for members, it also ensures peak performance from your machinery. Great long term maintenance routines lead to greater long term member retention.
General Best Practices and Things to Avoid
Later on, we'll cover more detail on the specifics of how to maintain different categories of equipment from cardio to strength. First, there are some general best practices and things to avoid that are applicable to the successful service of all types of equipment.
Professional and Manufacturer Maintenance
Always refer to the service professional's and manufacturer's maintenance guidance for a given machine or piece of equipment. Not only do equipment professionals know the ins-and-outs of the equipment, they also want you to get the best performance out of it as possible.
Best Practices:
Train staff in proper maintenance techniques for equipment and machines. In our experience, commercial clients who purchase equipment from us experience a huge difference because we provide them with preventative maintenance plans.

Use an expert technician as recommended and when needed for more advanced maintenance and fixes. 

Make use of resources available to you. At Akfit, not only do we offer maintenance plans and service, we also are available as a resource online, by phone, and in-store to address questions or concerns you may have regarding maintenance.
Things to Avoid:
Do not attempt to take apart or fix equipment without training or knowledge. Even if you are mechanically savvy, doing major fixes without a plan can affect the warranty of equipment and, more seriously, open you up to liability.

Avoid ignoring manufacturer-recommended maintenance on new machines. While it seems logical to think that new equipment will need the least maintenance (or none at all), it is actually really important to develop a proper maintenance and service plan from the beginning. Doing so significantly increases the longevity of the equipment.
Gym Equipment Cleaning 
Equipment cleaning goes well beyond eliminating germs and bacteria. While that's a very important reason to clean, effective cleaning routines are also key to keeping your equipment in great shape and in good working order.
Best Practices:
Schedule a daily cleaning service. A professional cleaning crew, especially one that is experienced in servicing commercial gyms, will work miracles in keeping equipment and the gym space clean. It is an investment in the longevity of your equipment and in the health and environment of your gym.

Make cleaning wipes readily available to members. The more accessible cleaning wipes are to people, the more they'll use them. Place several cleaning stations strategically around the gym so that they are no more than 3 meters from any given piece of equipment.

It's also important to be using the proper disinfectants on your equipment. The Government of Canada has released an

approved list

of disinfectants that are for combating the spread of COVID-19.  
Things to Avoid:
Avoid the use of spray cleaning solutions. People tend to overspray equipment which can cause damage and rust. Additionally, sprays are more time-consuming to use, meaning that people either won't use them at all or will clean them less thoroughly.

Avoid the use of ammonia cleaning products. Although chemicals like ammonia can be effective in killing germs, its efficacy is only best when the chemical can sit on a surface for 5-10 minutes. Some users won't spend that kind of time cleaning, and substances like ammonia will wear down on certain plastic and fabric materials on your equipment.

Avoid harsh regular household chemicals that could affect your clients negatively. For example, a user could come in contact with a harsh chemical and wipe sweat off their face, potentially irritating their eyes, skin, etc.

How to Maintain Cardio Equipment 
Given the range of exciting commercial cardio equipment available today, it's not surprising that these machines are very popular and heavily used in gyms. If properly serviced and maintained, high-quality cardio equipment can easily withstand high usage.
Treadmill Maintenance
Treadmills are heavily used machines with mechanical and electronic parts, which means it's important to perform regular preventative maintenance to avoid problems. Your service professional will guide you on the important areas to keep your eye on to ensure your treadmill will run smoothly.
Treadmill Focus Areas
Running Belt

Deck

Motor

Shock Absorber

Lift System
How Often Should You Perform Treadmill Maintenance?
Daily Treadmill Maintenance: Treadmills should be cleaned every day to avoid the accumulation of dust, dirt, and liquid. Wipe all surfaces using an ammonia-free cleaner. It also is a good idea to invest in a treadmill mat for the daily use of your treadmill if your machine isn't on a rubber floor, this will protect both the treadmill and your floor. 
Weekly Treadmill Maintenance: Inspect all treadmill components, including the screws and bolts, electronics, belt, and any signs of wear or damage. This should be a surface-level inspection to identify any physical issues or operational issues.
Monthly Treadmill Maintenance: Professional service and tune-up. Have a qualified professional perform a thorough routine inspection and service. This includes cleaning and vacuuming interior components, lubricating, adjusting the belt if needed, and other performance-enhancing measures. You should also vacuum the space underneath the treadmill to avoid long-term dust buildup. 
Elliptical Maintenance
Because elliptical machines have several moving components, there will be some additional maintenance considerations that differ from the treadmill. 
Elliptical Focus Areas
Flywheel

Tracks

Track Wheels

Frame
How Often Should You Perform Elliptical Maintenance?
Daily Elliptical Maintenance: Clean all surfaces of your elliptical machines daily, paying special attention to making sure that the track wheels and frame are clean.
Weekly Elliptical Maintenance: Inspect elliptical machines to make sure they are operating properly. Make sure that all components are tight and functioning normally. Check that the elliptical is level with the floor and does not rock when in use.
Monthly Elliptical Maintenance: Professionally service elliptical machines to clean interior components, lubricate necessary parts, and ensure that the wheels, rollers, and belt are functioning properly. Unplugging your elliptical and vacuuming underneath to prevent long-term dust build up is also a good idea. 
Exercise Bike Maintenance
There is more variation in the design of commercial exercise bikes compared to other popular cardio machines. As with all equipment, a professional can help you develop a service plan for your specific model. Still, there are general maintenance areas to consider for exercise bikes.
Exercise Bike Focus Areas
Flywheel

Bracket Assembly

Brake Pads

Chains, Bearings
How Often Should You Perform Exercise Bike Maintenance?
Daily Exercise Bike Maintenance: Wipe the surfaces of bikes with a soft cotton cloth using a non-chemical cleaning solution.
Weekly Exercise Bike Maintenance: It is important to check exercise bikes for loose components, as pedals, handlebars, and the seating assembly loosen from regular use and adjustment. Check for side-to-side pedal movement and any wobbling in handles or the seat.
Monthly Exercise Bike Maintenance: Proper lubrication is very important for the performance and life of exercise bikes. Have a service professional lubricate brake pads, the flywheel, and any other parts that need it, along with other important monthly maintenance requirements. Clean the floor underneath your bike to avoid long-term dust buildup.

How to Maintain Strength Equipment
Strength equipment may seem simpler to maintain than most cardio equipment because, for the most part, there are no electronic systems involved. While there's truth in that in some respects, it's key to identify the important maintenance points that are unique to strength equipment. Especially when dealing with weight systems, regular maintenance is crucial for safety.
Weight Machine Maintenance
There is a wide range of different weight lifting machines, so it is very important that your equipment provider familiarizes you with the necessary maintenance for specific models.
Weight Machine Focus Areas
Cables, Wires

Weight Stacks

Guide Rods

Hardware

Frames

Grips
How Often Should You Perform Weight Machine Maintenance?
Daily Weight Machine Maintenance: It's important to inspect weight machines with cables, wires, or belts every day. Fray and wear in cables and belts can pose a serious safety concern, so you want to make sure you catch it before further damage occurs. Daily cleaning is needed to prevent corrosion to metal frames.
Weekly Weight Machine Maintenance: Regularly inspect machine hardware to see if it's loose or rusty. Make sure everything is tight, but be cautious not to overtighten bolts and damage the machine frame. Additionally, check lubricant points and lubricate as needed.
Monthly Weight Machine Maintenance: Many commercial facilities schedule professional service for their weight machines monthly to ensure safety around the use of heavy weights. Professionals will inspect the alignment of weight stacks, lubricate moving parts and bearings, polish metal frames, check pulley systems, and other diagnoses.
Annual Weight Machine Maintenance: All cables and belts in commercial weight machines need to be replaced annually, at least. 
Rack and Rig Maintenance
Racks and rigs are the framework behind a huge amount of strength training equipment. It's crucial that this equipment remain sturdy, strong, and dependable to handle the weights that it carries on a daily basis.
Rack and Rig Focus Areas
Frames

Hardware

Upholstery

Accessories/Attachments
How Often Should You Perform Rack and Rig Maintenance?
Daily Rack and Rig Maintenance: Most importantly, clean the frames of your racks and rigs every day. Make sure to not use an abrasive material to clean the frame, as you can risk damaging the finish and opening it up to corrosion. 
Weekly Rack and Rig Maintenance: Check the hardware on your rack and rig frames every week. While doing so, check to see if there are any scratches or scrapes that have developed. If so, you will want to clean the area and protect it from corrosion by giving it a repolish.
Weights, Plates, and Bar Maintenance
Free weights, weight plates, and bars are all very versatile strength equipment. Even though they are strong, they get touched and moved around a lot. A really good cleaning routine is key to keeping this equipment fresh.
Weights, Plates, and Bar Focus Areas
Dumbbells

Bar Integrity

Clips

Surface Coatings
How Often Should You Perform Weights, Plates, and Bar Maintenance?
Daily Weights, Plates, and Bar Maintenance: The salt in sweat is very corrosive, so it's key that you schedule cleaning of your weights and weight equipment frequently throughout the day. Make sure that equipment is stacked safely and in the appropriate space.
Weekly Weights, Plates, and Bar Maintenance: Conduct a more thorough inspection and cleaning of free weights, plates, and bars each week. Look for surface damages or any signs of rust.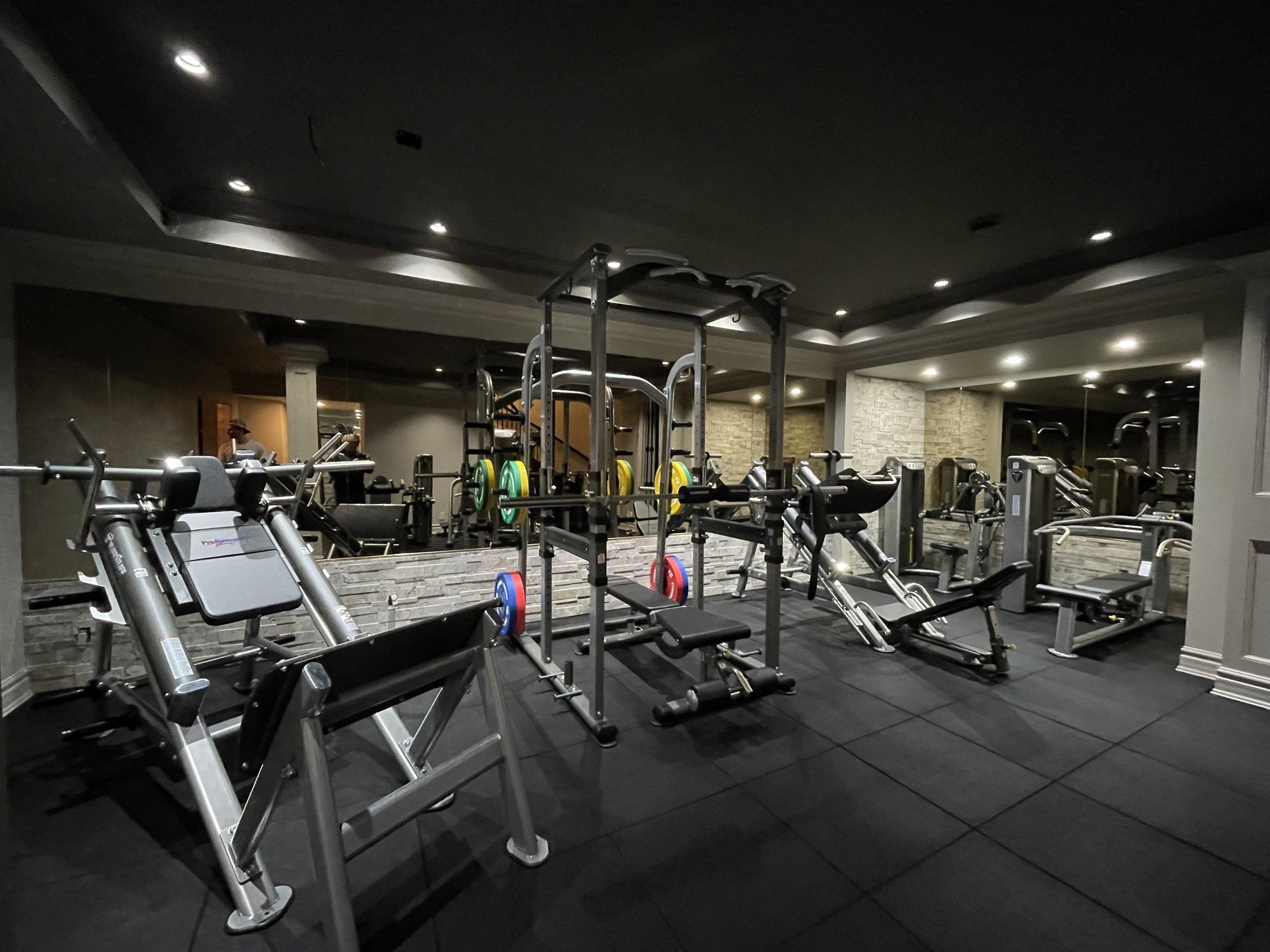 Plan Ahead for Your Service and Maintenance
When you buy commercial gym equipment from a knowledgeable fitness store, you won't need to do too much planning. We at Akfit have ready-made maintenance and service plans that we cater to you. It's important that you buy equipment from somewhere that can be a resource to you years down the line.
Some of the most important things to look for are dedicated customer service, warranty coverage, parts departments, maintenance plans, service plans, training services, and installation, among other things. The foundation for proper maintenance starts at the beginning, so keep those factors in mind when considering your equipment needs.
Visit us in-store or contact us today! If you prefer, we also offer virtual meetings. We look forward to hearing from you.