Joining a Gym vs Working Out at Home: The Pros & Cons
The decision to workout at home versus the commitment to going to a gym is never an easy one. In fact, many of our clients at Akfit struggle with this decision.
As a fitness specialty store, we offer more than just high-end workout equipment, at-home personal training solutions, and training workshops. Our team of health and fitness experts ultimate goal is to help get you started on the right track with your fitness journey.
One question we receive frequently from the new customers is whether it's better to sign up at a gym or to work out at home, using your own equipment.
Given that our products and services are geared towards both home and commercial use, we understand there are key differences between each setting.
In this article, we're breaking down the pros and cons of joining a gym vs. working out at home. By the end of this article, you will have the information necessary to make the right decision to meet your lifestyle and fitness goals.

In this article …

Joining a Gym Vs. Working Out at Home: The Experts Weigh In
Many people looking to start a workout regime for the first time are often apprehensive about joining their local gym. This is primarily because they're unfamiliar with training equipment in general and tend to shy away from the idea of breaking a sweat while surrounded by strangers.
Of course, starting a home workout is equally challenging since most people aren't sure of the types of equipment they actually need to perform some basic workouts.
Technically, there's no right answer to this question. It really depends on the type of person you are, what your schedule looks like, what your needs are in terms of training, and what your overall fitness goals are.
So, we're going to weigh in with the pros and cons of each workout situation to help you determine which you'd benefit from more.

Working Out at Home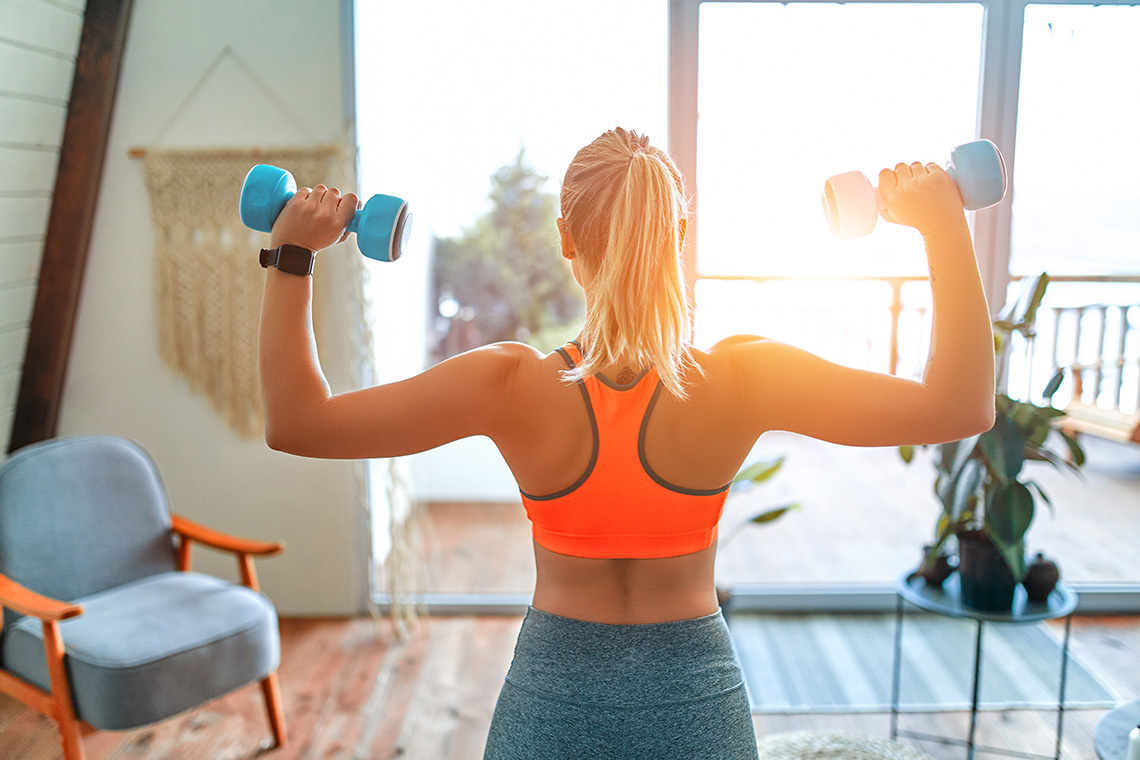 Many people enjoy working out at home and find it more suitable to their lifestyle. It's especially advantageous if you have a dedicated space complete with your favorite machines and gym accessories.
Pros of Working Out at Home
Let's take a look at all the pros of working out at home first:
It's Convenient
Arguably the best thing about working out at home is the convenience. You can quite literally roll out of bed and get your heart rate up without having to worry about driving anywhere.
Moreover, if you're short on time, you can split your workouts up throughout the day. Plus, you won't have to make any daycare arrangements or pack a gym bag.
It's Cost-effective
Monthly membership fees are one of the biggest downsides to joining a gym. While most gyms offer various plans to suit different budgets, you may only be able to afford the plan that excludes classes or the use of other facilities which are some of the best benefits to joining a gym.
Additionally, by design, many big box gym membership contracts are notoriously difficult to terminate.
When you work out from home, there are no membership fees. Plus, the initial investment is minimal because all you really need to get started is your body weight (and then eventually resistance bands, weights, etc., but you get the point).
Can discuss financing - a monthly finance fee will get you all the convenience of workout out at home while allowing you to get started with a full setup.
Social Anxiety Isn't a Factor
If exercising in front of other people makes you feel uncomfortable or self-conscious, you're definitely not alone.
Social anxiety, fear of judgment, and unwanted attention, in general, can keep you from pushing yourself or trying out new workouts or classes.
When you work out from home, you have the freedom to exercise in private and focus on yourself.
The Machines Are Always Open - and Clean
One of the best things about exercising at home is that you don't have to wait for any machines to open up. You've got your own equipment and accessories, and they're just for you. You also wont have to worry about gym members who don't clean their workout stations after use.
You Can Really Mix Things Up
There's a certain type of variety that comes with working out at home.
For example, you can choose to work out outside if you have the space or a nice neighborhood to run through.
You can also take advantage of various workout videos, apps, or even live stream classes, which means you don't have to work around a gym class schedule and establish your own routine
Cons of Working Out at Home
Now let's take a look at the cons of working out at home:
It Requires Self Motivation and Discipline
When you're home, there's technically no incentive to workout. It's all too easy to let yourself get distracted by other things like chores, food, television, or a comfy bed.
It takes some serious self-motivation and discipline to begin a daily workout regimen at home, which can lead to a string of "starting over" days rather than a consistent schedule.
It Can Get a Little Boring
When you work out at the gym, sometimes seeing the people around you working out can be a motivating factor. Also, there are usually TVs all around so you can distract yourself while working out—which is a big help for many people.
Self-motivation aside, not having the right kind of scenery to distract or motivate you can cause you to become bored with your workout.
There May Not Be Enough Space
Not everyone has a spare room for gym equipment or even the space for a treadmill. Additionally, people who have children or a bigger family may not be able to find an appropriate time or space to exercise, making it difficult to create a daily routine.
There's No One Around to Ask For Help
When you work out at a gym, you have the advantage of being surrounded by an experienced staff or even professional athletes who you can ask for pointers.
Unfortunately, when you work out from home, you'll have to rely on your Googling skills if you're having trouble with your form or aren't sure of the appropriate weight to lift.

Working Out at a Gym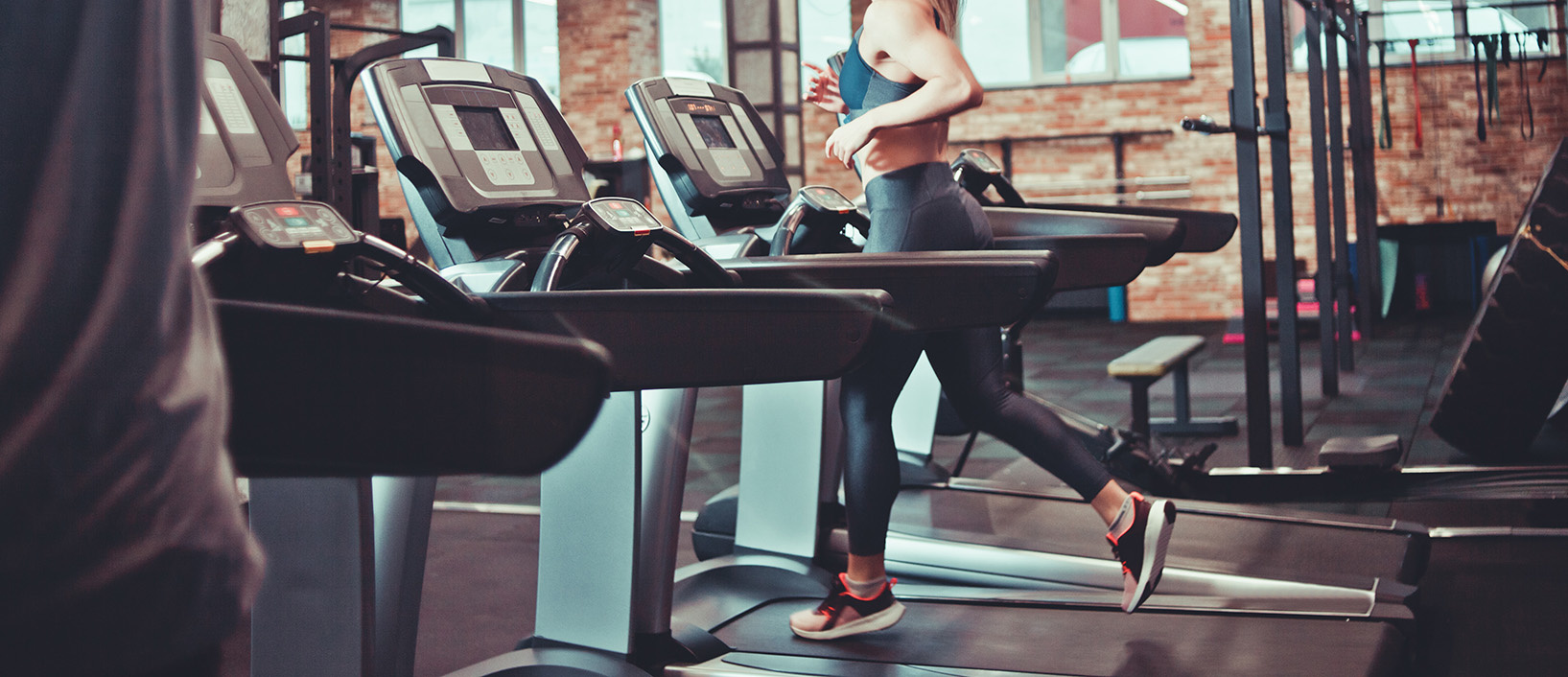 Tons of people would prefer to work out at a gym. For many, it's a sacred place for "me time" and the atmosphere can offer an extra boost of motivation.
Pros of Working Out at a Gym
Let's jump right into the pros of working out at a gym:
There Are Plenty of Amenities
One of the most obvious reasons to join a gym is for the equipment and accessories. Most gyms are fully stocked with everything an individual could possibly need to get a full-body workout.
Additionally, all gyms have locker rooms with showers and saunas. You may also have access to specialty fitness centers where you can play racquetball and other one-on-one games.
Let's not forget, some gyms even have juice bars and tanning booths.
There Are Classes and Personal Trainers
In addition to all the amenities gyms offer, you'll also be able to participate in a variety of classes from yoga to Zumba led by a certified instructor.
Many gyms also start you off with an assessment by a personal trainer who can help you create a personalized routine. Some go as far as to offer several free personal training sessions as a sign-up incentive.
Regardless of whether or not you opt for personal training sessions, your workouts can greatly benefit from having access to professionals for asking questions about equipment and form.
It Can Boost Your Focus and Motivation
When you go to the gym, there's nothing to do BUT workout.
There are no chores, children, or comfy sofas around to distract you from your fitness goals. It's just you and the machines. And as previously mentioned, being around other people who are working out can really amplify your energy.
Plus, paying a monthly membership fee is a good incentive to continue to show up and exercise.
Cons of Working Out at a Gym
Now, you probably already have a list of cons in your head regarding gyms from earlier, but here are a few more to consider:
It's a Commitment
When it comes to time, money, and accountability, joining a gym is a serious commitment. As mentioned earlier, it can be extremely difficult to get out of a gym membership.
It's also something you'll need to carve out adequate time for since you'll likely have to drive to and from the gym, pack a bag, and plan your workouts beforehand to maximize your time there.
It Can Get Crowded
If you can't get to the gym before work, then you'll have no choice but to go after—which is usually peak gym time since most people get their workouts in after they've clocked out for the day.
More people equals more machines being used, already-filled classes, and less personal space for you.
There's a Lack of Privacy
Between a busy locker room and active gym floor, the public gym does not offer much privacy.
In fact, it is likely that you will run into people you know and get distracted with socializing. This lack of privacy can take away from your time and the effectiveness of your workout routine.

What's Next?
When it comes to working out at a gym vs. at home, only you can decide which option best suits your lifestyle, fitness goals, and budget.
Of course, even people with a gym membership like to have some home exercise equipment handy—and that's where we come in.
At Akfit, we can supply you with all the essential gym equipment and accessories you need to get results right at home. We also offer in-home personal training services, workshops, machine maintenance, and more.
To start building your home gym today, visit us online or in-store.You can also get in touch by requesting a virtual meeting with us. Our experts can discuss your fitness goals and the limitations of your space to determine the best solution for you.
We look forward to helping you begin your fitness journey and build the home gym of your dreams!