New vs Used Commercial Gym Equipment
Setting up a gym can come with lots of unique challenges.
Searching for premises with enough floor space in the right area can take a long time. And then there is the equipment, which typically runs up to tens of thousands of dollars.
In fact, because overheads are so high, some gym owners choose to find substantial savings by purchasing used commercial gym equipment. However, used equipment can come with unforeseen problems and additional expenses. 
Since 1989, Akfit has operated as a reputable fitness specialty store. We offer a range of quality exercise equipment for both consumer and commercial purposes. 
While our wide selection of products speaks for itself, we are also proud to offer expert advice. In turn, many of our clients ask our opinion on used vs. new commercial gym equipment. 
While affordable and accessible, we typically caution facilities of purchasing used equipment and emphasize that new equipment is the best direction in the long run. With this being said, we realize that new equipment may not be affordable for everyone and some gym owners may be seeking alternative solutions.
To help you make the best decision for your gym, we'll compare the advantages and disadvantages of two approaches: new vs. used commercial gym equipment.
In this article …
What Is Commercial Gym Equipment?
Commercial gym equipment means machines that are built with the best materials and most durable designs. Commercial gym equipment has to:
Accommodate frequent use
Be adjustable to various heights, weights, and skill levels
Host a wide range of different weights or settings
Generally, commercial gym equipment is split into two grades: full commercial equipment and light commercial equipment.
Full commercial equipment uses the best parts and materials to form a solid, durable machine that can cope with sustained, rough treatment. These machines are typically housed in paid gyms.
Light commercial equipment is also built to a high specification; however, it won't have the levels of durability as commercial gym equipment. This equipment is usually found in schools, staff, or hospital gyms.
New Commercial Gym Equipment
If you have the budget for it and are willing to make an investment, buying new commercial gym equipment will save you many headaches and will prove very worthwhile in the long run.  
Disadvantages of New Commercial Gym Equipment
Before we dive into the advantages of buying new gym equipment, we must acknowledge one significant disadvantage …
High-Cost
Filling an entire commercial gym with brand new gym equipment can be very costly. If this is a new business venture, spending such a large amount of money may be a risk. 
Advantages of New Commercial  Gym Equipment
Despite the high cost, new gym equipment is arguably the best solution for any gym. There is no wear and tear, a full warranty, and an excellent range of choices. Additionally, the machine has a long life ahead of it, particularly if it's properly maintained.
Here are some advantages of buying new gym equipment.
Fully Warranty
Commercial gym equipment comes with a full manufacturer's warranty. This coverage protects your machines no matter what happens, giving you peace of mind. Many of the leading gym equipment brands offer extended warranties on their products.
Latest Technology
Buying new machines gives you a chance to buy the best and latest technology on the market. While this can be a significant investment, high-tech equipment is excellent for attracting a broad range of customers. 
Better Machine Life
If you have a new machine and you follow the manufacturers' maintenance guidelines, it can ensure the longevity of the equipment. Regular upkeep is key to extending product life, with a well-cared-for device capable of lasting over a decade. Used machines can become problematic if they have not been maintained properly.
Established, Trusted Brands
There are lots of retailers of new gym equipment. Find trusted brands with good reputations to maintain. These places have often been in the industry a long time, meaning they're not going anywhere soon.
Used sellers, on the other hand, are often nameless individuals. Lots of sales are "buyer beware", which could mean there are various problems.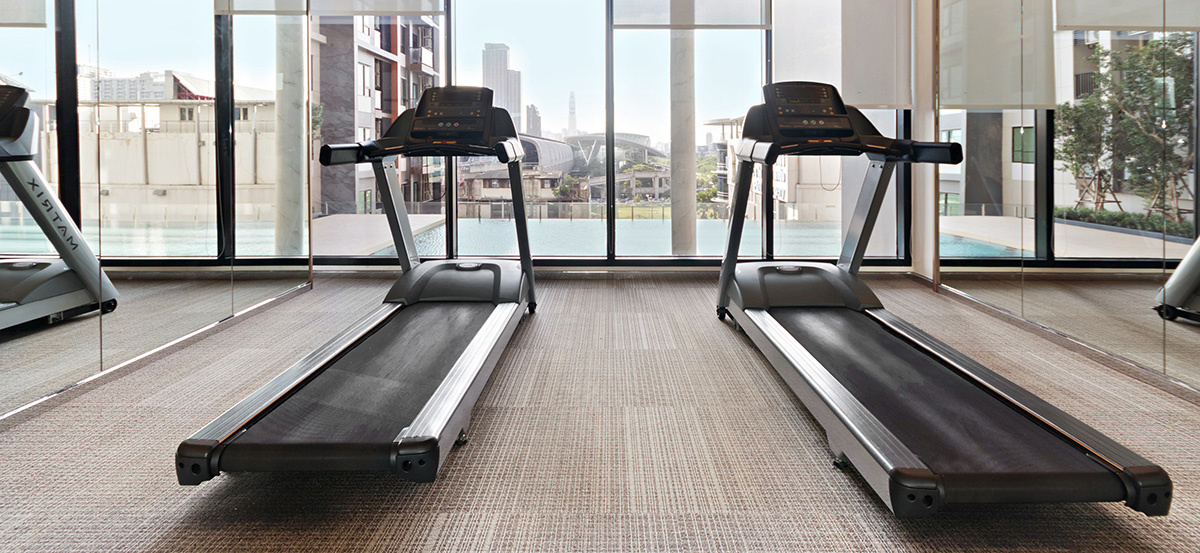 Used Commercial Gym Equipment
As previously mentioned, the cost of funding a new gym is in the tens of thousands. For many gym owners that are starting out, this kind of budget is not realistic. If finances are limited, used or refurbished gym equipment can provide considerable savings. 
However, this solution may not be so simple. Although the savings may be substantial, used gym equipment can come with its own set of challenges.
Disadvantages of Used Commercial Gym Equipment
Here are a few hazards to watch out for when purchasing used gym equipment.
Replacement Parts
Not all commercial gym equipment is maintained equally. Some gyms let their machines go and cut corners when it comes to repairs. 
This can leave you with replacement parts that the manufacturer doesn't support. While these parts are in-tact enough for the machines to run, they may cause problems in the long term.
Faulty Installation & No Upkeep Routine
According to an expert at Akfit, a significant disadvantage of used commercial gym equipment is faulty installation. Doing it yourself can lead to an improper setup that may lead to eventual breakdowns or unnecessary safety hazards.
Further, used gym equipment may not have had a proper upkeep routine. In comparison, the sale of most new commercial gym equipment can include maintenance contracts to ensure that your equipment is performing at top-notch. 
No Warranty
Some used commercial gym equipment might come with a short warranty. This will be much less than the manufacturer's original terms upon purchase. If the machines give you problems, these repairs could end up costing a lot of money.
Further, dealing with third party parts and unauthorized service technicians could void the manufacturer's warranty entirely. This too could lead to a reduced equipment lifespan.
Earlier Breakdowns
Most machines will break down at some point. When you're buying used gym equipment, that time will come quicker. 
Reduced Equipment Life
Most used commercial gym equipment has had plenty of use. With gyms being open for long hours throughout the year, most machines will be considerably worn by the time you buy them. Every device is subject to wear and tear which will lead to bigger issues.
Advantages of Buying Used Commercial Gym Equipment
Of course, it's not all bad in the world of used gym equipment. There are some pluses:
Cost-Effective
Obviously, the most attractive aspect of buying used gym equipment is saving money. Newer models of gym equipment can cost thousands of dollars, while used commercial equipment is available for around half or a third of these costs.
Bargains
If you know a lot about gym equipment, you can possibly find some bargains. These could be particular brands that you know hold up well or equipment that is underrated. With the right knowledge, it's possible to find a machine that will last a long time.

New vs. Used Commercial Gym Equipment: A Final Comparison
So now that you know some of the primary advantages and disadvantages of new vs. used commercial gym equipment, let's compare them further.
Convenience 
There is no real comparison when it comes to the convenience between new and used gym equipment. For starters, new equipment gets delivered to your door. Used equipment, however, will generally need to be collected. That means getting a truck to move it. 
Additionally, new equipment comes with manuals and customer support. 
Quality 
Used gym equipment has often taken a bit of punishment over the years. Three years of many hours a day of use will take its toll on even the highest-end machine. So when you come around to buying it, there are a few scenarios. One, the machine has all its original parts, which are subject to wear and tear. Or two, the machine has been refurbished.
Refurbished machines can sound as if they'll be just like new equipment; however, this depends on a few factors. Who did the refurb, and where did they source replacement parts? Often refurbished gym equipment uses cheaper after-market parts. Original manufacturer parts are more expensive, but they are high-quality and last longer.
On the other hand, if you buy a new machine, the parts will be at the peak of their condition. The equipment will work perfectly for a long time, provided you maintain and service it properly.
Longevity of the Equipment  
Unless you get lucky, most used equipment won't last as long as new machines. Typically, used equipment will have been put through a lot of use before it is sold off. So, while it has a lower initial cost, it will need to be replaced sooner. 
ROI 
While new equipment requires larger upfront payments, it can still provide a good ROI. Firstly, new equipment attracts more gym members. Most people like to work with clean and modern machines, and new machines will keep going for a long time.
Additionally, while used machines have a lower initial outlay, this can rise over the course of a few years. If equipment breaks and there is no warranty, repairs can rack up. Furthermore, used equipment has a lower life expectancy. It may be cheaper to buy a used piece of equipment, but it most likely won't provide ROI for a decade.
Cost Difference
There is a significant difference between used and new commercial gym equipment. For example, a good treadmill might cost more than $3000 but be available for around $500. Sometimes these machines haven't been used too frequently either.
Tips for Buying Used Gym Equipment
While new equipment is always your most reliable option, if you are buying used equipment, here are a few tips to ensure you buy a well-kept machine
#1. Try Before You Buy
Do your due diligence on any equipment you buy. Used sellers can sometimes be deceptive to make more money.
#2. Look for Quality Brands
Shop for quality brands that you know. Ensure you are buying high-quality machines that are built to last a long time. Otherwise, you can face repair or replacement bills.
#3. Look for Signs of Wear
Before you buy any used equipment, you should test it thoroughly for signs of wear or damage. Cracks, rust, or defective parts are signs that a machine has not been taken care of. 
As was underlined in point 1, make sure that you try before you buy to ensure the equipment is working well. Note any parts that need to be changed and determine if they are available and what they cost. A used piece of gym equipment can seem like a bargain but cost a considerable sum to get it up to spec.
#4. Check the Safety Features
One of the biggest worries with used equipment is that it's safe to use. Buyers should inspect the electrics and wires for any signs of damage. Rubber and plastic machine parts should never be cracked or showing excessive signs of wear. 
All machines and dumbbells should be free of rust. Treadmills should be running smoothly, while stationary bikes should pedal seamlessly.
#5. Check the Warranty 
In general, used equipment comes without a warranty. But in some cases, the machines may come with an extended warranty option. It's best to call the manufacturer to check. Remember, point 2 says to look for quality brands to have a customer support facility.
If your machine is not under warranty, some manufacturers will allow you to extend it.
Finally, check with the manufacturer about recalls or issues replacing certain parts. Either of these eventualities could be deal-breakers.

What's Next? Get in Touch with Akfit for Professional Assistance
If you're starting a gym, equipment is one of your most significant outgoings. For some new gym owners, buying used gym equipment might be the most realistic choice. Others may prefer to take a leap and spend the big bucks on brand new, top-of-the-line equipment.
If you are ready to invest in high-quality gym equipment that is good as new, we are here for you at Akfit, with the advice you need to make sound purchasing decisions. 
Akfit has the largest network of commercial brands in Northern Ontario, the latest and greatest equipment, budget-friendly solutions, and commercial facility design. 
Our assistance does not end with the purchase of commercial gym equipment and facility design. Not only do we offer delivery, but we also have trained installation technicians to ensure that your equipment is installed correctly and functioning properly. Further, we offer maintenance contracts to keep your facility running top-notch on a schedule.
If anything with your Akfit products were to go wrong, we operate with a full-time service department to address any repairs or malfunctions as we work directly with manufacturers and the authorized dealers of the equipment. 
To get started kitting your commercial gym today, visit us at our retail location in Sudbury, Ontario. If you prefer to shop online, request a virtual meeting with one of our experts.
In the meantime, take a closer look at our commercial services. 
We look forward to working with you and making your dream commercial gym a true reality!