Review of Inspire FT2 Functional Trainer Package
When you are on a mission to craft the perfect home gym, figuring out all the different equipment you need can be overwhelming. With our Inspire FT2 package, you receive Light-commercial-grade equipment that is capable of working out every muscle group.
Keep your body fit with the many different functions the Inspire FT2 has to offer. This functional trainer can help you no matter if you are simply looking for a way to stay in shape or if you are building muscle and toning more seriously.
Training at home has never been easier!
In this review …

What is the Inspire FT2 Functional Trainer?

The Inspire FT2 is a functional trainer which includes a dual weight stack system. It combines multiple pieces of equipment into one product. This enables users to complete full-body or more targeted workouts.
This frame is light commercial-grade, ensuring the equipment has both long-lasting sturdiness and stability. It is topped with the Electrostatic Powder Coat, which offers a durable and maintenance-free finish. It even includes a small vial of touch-up paint for any nicks and scratches you may inflict over its lifetime.
While functional trainers are most commonly found in commercial gyms, the Inspire FT2 is a great cost-effective, all-in-one solution for home fitness and light-commercial settings.
Key Features of the Inspire FT2 Functional Trainer Package

At Akfit, our Inspire FT2 Functional Trainer package is designed to provide you with everything your home gym needs.
This package deal contains many different pieces of equipment, including:
FID Bench: An FID bench is a heavy-duty adjustable bench that can be used in flat, incline, and decline positions.
Leg Extension Package: A plate-loaded leg extension attachment can be equipped to the FID bench for resistance weight training to target your quads and features cushions to protect the area of your legs that come into contact with the machine. The leg conversion kit is an included accessory to the leg extension attachment that allows users to attach the leg extension machine to the weight stack system to allow steady resistance during concentric and eccentric movements. his accessory is attached by hand in seconds and can be detached on the fly.
Shrouds: Shrouds are the material used to enclose and cover the weights and pulleys. As the weights and pulleys move up and down, they pose a threat to both the person working out and passersby. Shrouds ensure the weights and pulleys are contained and will not cause harm to stray fingers.
Bearing System: With the Inspire FT2, you don't have to worry about uncomfortable movements. The precision steel ball-bearing system provides a smooth and frictionless action. Plus, it is designed for longevity to be maintenance-free.
Pulleys: The pulleys featured on the Inspire FT2 are made from fiberglass-reinforced nylon. They help with both push and pull exercises, offering all the same capabilities of cable machines you would find at the gym.

Build Your Strength with Dual Independent Weight Stacks
We have covered the essential pieces of equipment included within the Inspire FT2 package. Now let's talk about the fun stuff – the weight stacks!
The Inspire FT2 features dual independent weight stacks, meaning each side can be used either together or separately. This allows you to work each side of the body independently for a more balanced workout.
The two-weight stacks feature 150lbs of commercial weights each. Each weight includes a drilled hole in the center and magnetic pins for safety. The holes and pins enable you to adjust the weight according to your personal fitness level and goals.
Whether you are trying to shed some weight or bulk up in muscle, weight training can help. With the Inspire FT2 Functional Trainer, you have access to a wide range of weights and increments. This helps you achieve the best and safest workout for your body.
Extra Attachments and Accessories
To properly use the Inspire FT2 Functional Trainer, you will need an assortment of attachments for the pulley system.
These attachments include:
Tricep Rope: Tricep ropes are used not only for triceps movements but also for biceps, shoulders, abs, and back.
2 D Handles: D handles are great for building and toning the muscles in your arms. They can be used together or independently.
Straight Bar: Also called a barbell, a straight bar is a cylindrical metal rod. On both ends are additional cylindrical pieces that can be fitted with weight plates. Alternatively, the bar can also be attached to cabled weight stacks systems like that on the Inspire FT2.
EZ Curl Bar: An EZ curl bar is designed in a zig-zag shape to allow for a more comfortable grip and less strain on the forearms and wrists. This bar is typically used for bicep and tricep exercises.
Ankle Cuff: Ankle cuffs are supporting material that can be attached around your ankle and then hooked up to the cables. These are used primarily to add resistance and weight to leg movements.
Leg Developer Attachment: All the attachments and equipment needed to utilize the leg extension machine and conversion kit.
But wait – there's more! Not only does our Inspire FT2 Functional Trainer package come with all the attachments you need, but we also include some important extras!
Akfit's Inspire FT2 package offers several additional accessories, including:
2 Water Bottles: Hydration is key in any fitness setting. Our package comes with two high-quality water bottles to ensure you are getting the liquids you need. Remember, hydration is crucial for every single person!
2 to 5 lb. Add-On Weights: For those of you new to weight training, being able to add on incremental weight is essential. We include 2 to 5 lb. add-on weights to help you achieve the body and fitness goals of your dreams.
Multi-Function Belt: When starting a weight lifting regimen, your form is crucial for safety and protection from injuries. The multi-function belt included in this product package helps provide you with stability and good form, while also assisting you in engaging the right muscles.
Exercise Booklet: Not sure where to start on your weight lifting journey? We include an exercise booklet with each Inspire FT2 package to help you begin your transformation.
Built to Fit in Your Home: The Size & Dimensions of the Inspire FT2
The Inspire FT2 Functional Trainer's compact design allows you to achieve maximum fitness without needing a full room of equipment. All you need is a dedicated corner space to set up your new Inspire FT2.
The bench is also removable with a detachable leg extension machine. As such, you can remove these pieces and stow them away when not in use. This will minimize the space taken up by the Inspire FT2.
Here are the dimensions of the Inspire FT2 Functional Trainer:
Width: 61 inches
Depth with Bench: 89 inches
Depth without Bench: 58 inches
Minimum Height: 83 inches
Maximum Height: 88 inches
This functional trainer was made with indoor settings in mind. However, with the proper coverings, the Inspire FT2 could also be placed in outdoor fitness space. Just be mindful of your local weather conditions and cover your equipment properly when not in use.
Available Options & Upgrades
The Inspire FT2's design is made for adjustability. As a result, there are many different options for what exercises can be performed using the equipment.
In terms of available upgrades, Akfit offers a 200lb weight stack upgrade. This is a fantastic addition for users who may be at an intermediate or advanced level and need higher weights than the base package provides.
Cost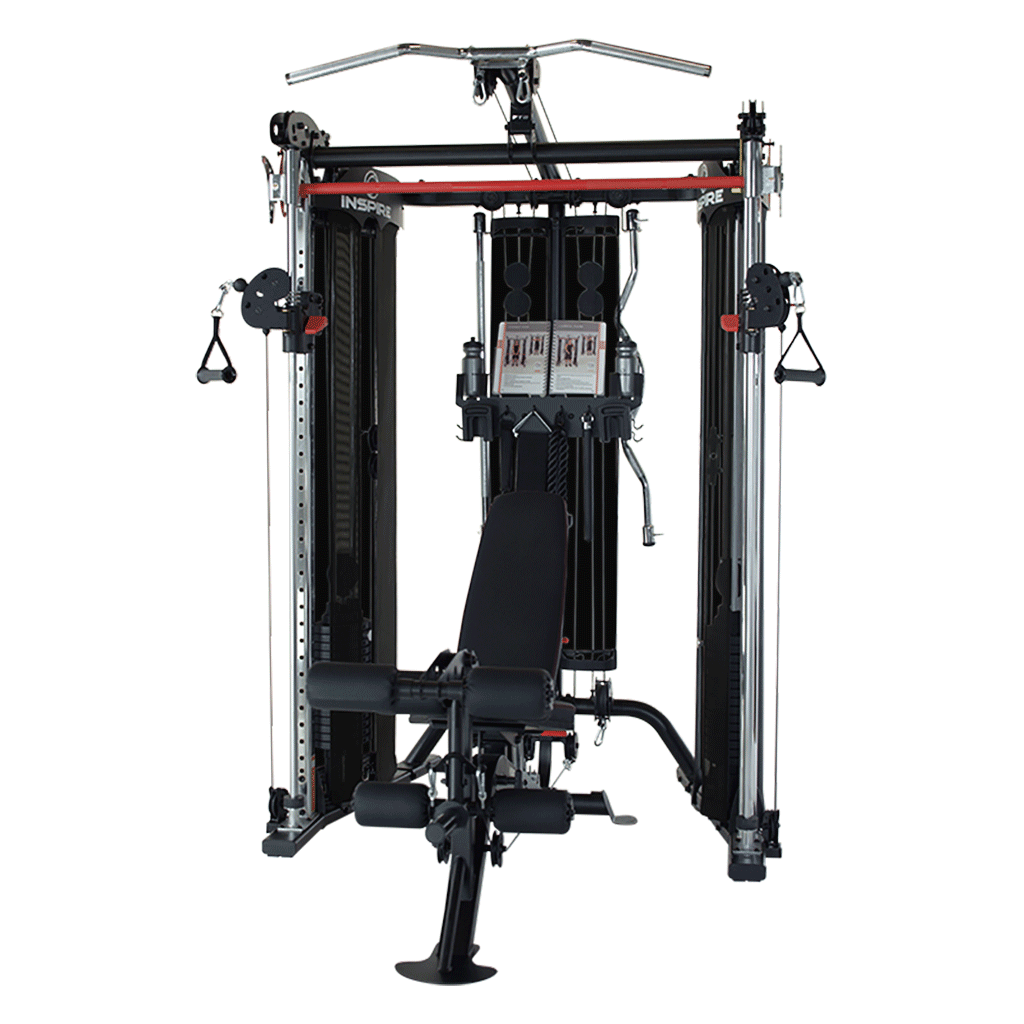 The base cost of the Inspire FT2 package is $5,098.00.
The price will vary depending on a number of factors. Click here for up-to-date pricing information and availability. Not in stock? Don't worry! we can notify you when it's available so you're first in line! See product page for details.
Customers can either pay the full amount for the product package or seek out financing through PayBright by clicking the Prequalify button on the product page:

Akfit also offers gift cards available in denominations of $50 or more - including custom amounts of your choosing! If you are looking for a gift for a loved one, these digital gift cards can help put money towards an Inspire FT2 Functional Trainer.
Warranty
Akfit's Inspire FT2 Functional Trainer package comes with two different warranties, depending on the user and purpose.
They are as follows:
Residential: The residential warranty includes a Limited Lifetime on the frame and all of the included parts.
Light Commercial: The light commercial warranty has a 10 year limit on the frame and all of the parts. This functional trainer is permitted for commercial use in supervised settings only.
Customer Reviews
The Inspire FT2 Functional Trainer package currently has a 5-star review with Akfit clients!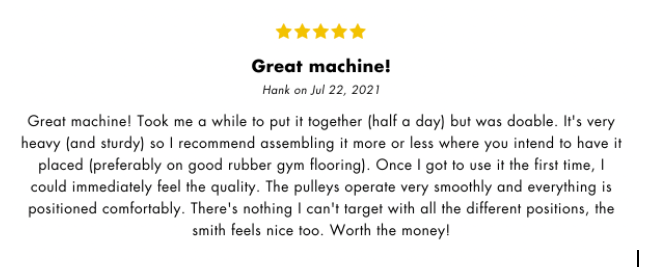 Is Akfit's Inspire FT2 Functional Trainer Package Right for You?
The truth of the Inspire FT2 Functional Trainer package is that it is suitable for most customers.
Whether you are just beginning your fitness journey or are well-experienced, the Inspire FT2's range of capabilities and functions has something for everyone.
Here are 3 key considerations for deciding if the Inspire FT2 package is right for you:
Great for Customers Seeking a Convenient At-Home Fitness Solution
For those of you looking for the best equipment for a home gym, look no further. The Inspire FT2's all-in-one design helps you achieve an advanced at-home fitness space without having to purchase tons of different equipment.
Plus, its compact structure and rectangular frame make it easy to fit in a tight space or smaller room.
Designed with Intermediate to Advanced Users in Mind
If you are at an intermediate or advanced level in weightlifting, finding the right equipment for your skill level can be a real chore.
With the Inspire FT2, each weight stack is maxed out at 150 lbs. each, allowing for some serious lifting. If you need additional weight, our 200 lb. weight stack upgrade is available for purchase with this package. Don't waste money on all sorts of different equipment when you can get everything you need with this one product.
Ideal for Small Gyms and Fitness Centers
The Inspire FT2 Functional Trainer Package comes with a limited commercial warranty and is permissible for use in commercial settings.
Designed for all-purpose use, the Inspire FT2 makes an excellent piece of equipment for small gyms and fitness centers. For instance, an apartment complex could invest in this product package and avoid creating a cluttered fitness space for residents.
What's Next? Get in Touch with AKFit for Personalized Service
Have we convinced you that the Inspire FT2 is the perfect piece of equipment for you?
To learn more about this product package and all of Akfit's other offerings, get in touch by requesting a virtual meeting with us. Our experts can discuss your needs and the limitations of your space to determine the best solution for you.
For commercial customers, Akfit can help you envision and layout your fitness space using our 3D design technology. We also offer leasing options, service priority, and maintenance plans.
Akfit is here to help you start your fitness journey and maintain a healthy lifestyle. Visit us online or in-store today!