Spirit vs Matrix: A Comparison of Treadmill Brands
The invention of the treadmill has been a lifesaver for so many of us. Not only do they allow us to maintain our fitness regime when other factors get in the way — such as weather, timing, or family responsibilities — but they allow us to customize our workouts down to the last detail.
If you live in a flat area but love running in the hills, a treadmill allows you to do that. If you love to run in shorts but it's below zero outside, no problem — treadmills are great for that purpose, as well. The benefits and possibilities are endless when it comes to what you can do with the right piece of equipment in your home or office.
However, it's not all said and done from the moment you decide a treadmill is for you; if only it were that easy, right? There are actually many aspects to consider before you take the plunge and bring one home. 
Some examples might be whether your space can even accommodate a unit the size of a treadmill, whether your finances allow for it, or if your family will approve of your decision to bring a treadmill into their home. 
At Akfit, we're experienced and extremely knowledgeable in the field of treadmills and would be happy to help you find your perfect fit. In fact, we've written this post for that very purpose and would love to show you a comparison of two of our best-selling treadmill brands: Matrix and Spirit . 
Read on for a detailed comparison of these two excellent choices to see if one of them could be right for you!
In this article…….
Spirit
Spirit has been making a name for itself in the fitness industry since 1983. Made and manufactured by Dyaco, a multinational company based in Taiwan, Spirit exports fitness equipment to fitness retailers and commercial clients in dozens of countries.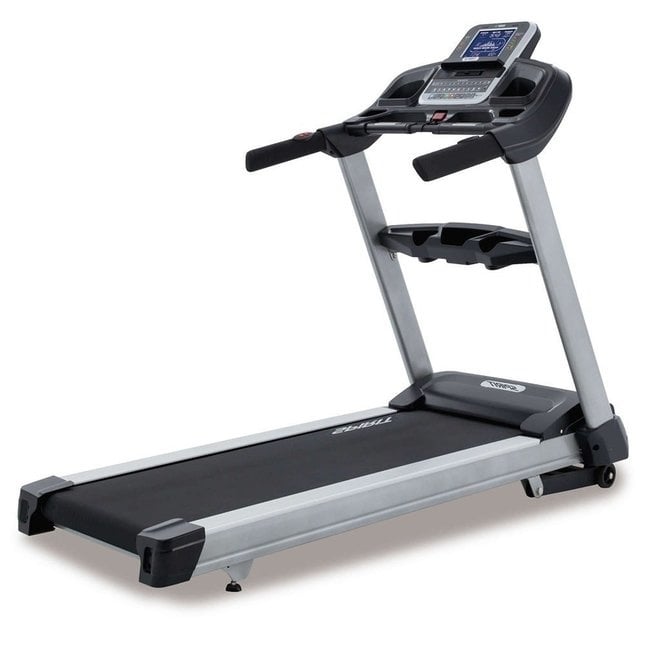 Spirit Features
Spirit products are many, but all include similar basic features such as high-quality fans on most units, as well as mp3-capable audio speakers. 
Spirit treadmills standout with their consoles. They are multi-coloured yet are sleek and uncluttered. The buttons are easy to press in the midst of running, not to mention, controls are also built into the handrails of some spirit treadmills. 
The motors in some Spirit treadmills exceed the capabilities of some other brands in the same price category. According to Treadmill Reviews, Spirit's top-of-the-line model for 2010, the XT675, has a 3.5 HP motor to support runners weighing up to 425 pounds. The Esprit ET6 has a 2.5 HP motor, which is adequate for most walkers and light joggers.
As for treadmill tracks, some Spirit treadmill tracks are relatively small. With this being said, the brand's best models have tracks up to 60"x 22".
Other common features include:
Touchscreen display

TV with HDMI input

3.5 mm Audio jack

Bluetooth 4.0

USB Charging port
Spirit Cost
When it comes to cost, Spirit treadmills cost anywhere from $900 to $2,000. 
A variety of machines are available to suit a range of fitness budgets. In turn, the quality of Spirit treadmills also varies.
Spirit treadmills sold in the higher price bracket offer top-of-the-line features and functionality. Alternatively, the cheaper spirit models are noticeably less sturdy and less powerful than the more expensive models. 
This is something to consider when deliberating on budget and how much you are willing to spend on a Spirit Treadmill.
Spirit Warranty
Treadmills are an investment. In turn, Spirit offers a warranty to ensure the protection of such a significant purchase. 
Spirit treadmills include 30-year or lifetime motor warranties, 1-year warranties on parts and labour, and 5-7ear frame warranties.
Spirit Models at AkFit
While these are the basic features and functions of Spirit treadmills, there are many models and options to choose from. Some of our available inventory includes:
Spirit XT685 Platform Treadmill
Regular price: ~ $3,499.00 (click here for the most up-to-date pricing)
Dimensions (L x W x H): 78" x 32" x 56"
Product Weight: 269 lbs.
User weight capacity: 425 lbs.
Warranty: Lifetime frame, motor, and deck, 10 years parts, 1-year labour
The XT685 is Spirit's flagship model for their X series. Designed to accommodate anyone from walkers to avid runners, its features and lightweight construction make it a smart choice for anyone who takes their fitness seriously but wants a more compact treadmill for their space.
With convenient features such as its 9" bright blue LCD display and remote handlebar toggles for speed and incline adjustments, it works to make your treadmill experience more streamlined by allowing you to focus on your workout and not fuss over the settings.
Its Zwift compatibility is great for fitness motivation by offering new workouts and training plans, along with a community of fitness enthusiasts just like yourself to exercise with! With all these features and more, the XT685 is a strong contender in the treadmill category that you won't want to miss!
Spirit XT385 Folding Treadmill
Regular price: ~$2,999.00 (click here for the most up-to-date pricing)
Dimensions (L x W x H): 79.9" x 34.8" x 56.9"
Product weight: 265lbs. 
User weight capacity: 375 lbs.  
Warranty: Lifetime frame, motor and deck warranty, 10 years parts, 1-year labour
The XT385 represents the best of both worlds for the treadmill user, boasting a sturdy frame and large running surface as well as a convenient fold-away design. The issue concerning space is no longer a problem with this model, leaving you more freedom in your treadmill decision-making.
An appealing option for anyone from walkers up to mid-level runners, the solid construction and wide belt will give you the confidence you need when working out, as well as the comfort and maneuverability that you desire. Feel free to shift your speed or elevation up to 12 mph and 15% respectively, or anywhere in between that fits your workout needs. 
This model is also compatible with Zswift and designed to keep you motivated in achieving your fitness goals. You can try new workouts daily or race with other members of the Zwift community for a little healthy competition — to keep you on your toes! The XT385 definitely hits the marks in the features department and is an excellent choice for anyone who wants to keep up with their fitness goals.
Matrix
From Johnson Health Tech., Matrix Fitness has been creating high-end fitness equipment for residences and commercial facilities since 2001. With the mindset that everyone deserves the premium fitness club experience even when working out from home, Matrix claims to provide only the best when it comes to performance, functionality, and durability.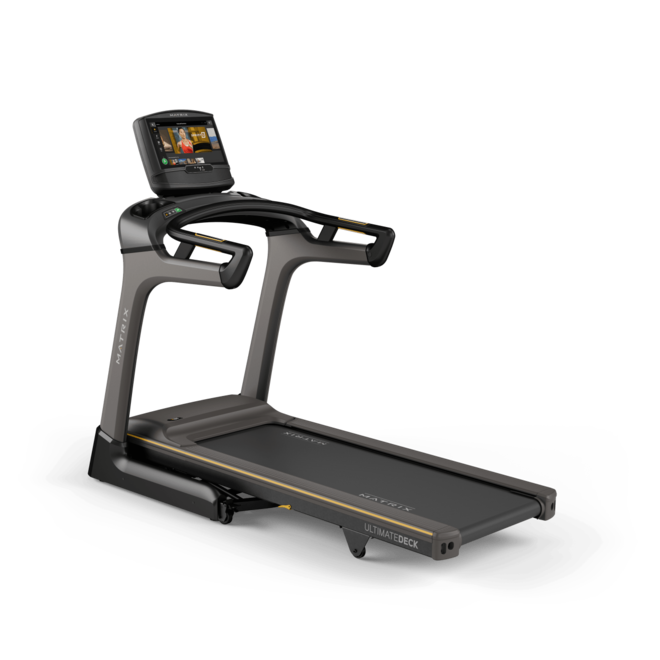 Matrix Features
Matrix treadmills have a variety of features that contribute to their high-end functionality.
First, Matrix offers both folding and non-folding frames. While equally sturdy, folding frames offer space efficiency for at-home users. 
Matrix treadmills are also constructed with high-end motors patented by Johnson Drive. These motors recalibrate the belt motion with each step for an especially smooth performance. The X75 stands out for having an AC motor like a health club machine, but each unit is powerful enough to support smooth interval training and long distance runs.
Moreover, Matrix treadmills have exceptional track quality. The thick two-ply track belts promote quiet operation and durability. Matrix tracks also have standard to above-average surface sizes to accommodate runners of all sizes.
In an attempt to protect the knees and joints of users, Matrix treadmills are also built with 1"-thick decks placed on high-quality suspension systems.
Matrix Treadmills also have the power to incline up to 15%.
Finally, Matrix home treadmills are paired with a choice of four consoles:
Basic XR Console

Older screen technology (no touchscreen)

Backlit 9.5" LCD

5 built-in workout programs

Sprint8 workout app

Ledge for holding mobile devices

Can integrate to Virtual Active by connecting to Passport Player

Passport Ready console is compatible with a wireless heart rate monitor

Premium XIR Console

10" touch screen 

11 standard workouts

Sprint8 app

3 built-in Virtual Active workouts

Passport readiness for new video workouts or connecting to another screen

Compatible with smartphones, speakers, web browsers, and a variety of apps

Mid-Level XER Console

6" touch screen

10 standard programs

Same special features as XIR (except web browser compatibility) 

New 2021 XUR Console

22" HD touchscreen

Wifi and bluetooth compatible 

HDMI and USB ports

Web browser

Custom workout calendar

30 day iFit membership included

5-Watt speakers
Matrix offers many more features complimentary to their premium design, such as:
Water bottle holders

3.35 HP continuous duty Johnson drive system

Ultimate Deck System cushioning

Soft-touch buttons

Heart rate grips
It is important to note that Matrix treadmills weigh more than 260 pounds each. While this is a sign of high-quality, it can prove difficult for transportation from room to room.
Matrix Cost
As a high-end manufacturer, Matrix treadmills are more expensive compared to Spirit. Costing about $2,000 or more, Matrix treadmills are ideal for elite commercial gyms and health clubs. 
With this being said, Matrix does produce units designed for home use. While a Matrix treadmill may be out of the budget for many home gym owners, it is an ideal product for those who are willing to spend. 
Further, it is important to consider that additional costs may arise when purchasing a Matrix treadmill, especially for at-home use. Features such as the Passport Player, which sends Virtual Active workouts to your home entertainment system, are sold separately. 
Warranty
The Matrix warranty does well at matching its high-end prices. 
Lifetime coverage is standard for each home treadmill frame, motor, and deck. Each console carries a 5-year warranty. Other components are under a warranty for five to seven years, depending on the model. 
If labour is required, there is no expense during the first two years of ownership.
Matrix Models at Akfit
With all of this information in mind, take a look at some of the Matrix treadmills offered at Akfit:
Matrix TF30 XR Folding Treadmill (Legacy)
Regular price: $3,498.00 (Click here for the most up-to-date pricing)
Dimensions (L x W x H): 76.6" x 35.8" x 52"
Product Weight: 282 lbs.
User weight capacity: 350 lbs.
Home warranty: Lifetime frame, motor and cushioning, 5 years parts, 2 years labour
The TF30 is part of Matrix's Legacy series and boasts multiple reasons to choose it from the lineup. From its smooth, quiet ride thanks to the Johnson Drive System and durable Ultimate Deck System, its sturdy construction brings you both confidence and comfort. Thankfully, you don't have to sacrifice in the space-saving department here, as this model is foldable, giving you your space back when you're done for the day!
Matrix's unique XR console system is another helpful feature; it allows you to keep track of your stats at a quick glance, letting you stay focused on your workout without having to worry about checking on your progress. With 3 options to choose from in the console department, you're sure to find the perfect fit for your workout needs.
With the ability to travel up to 12.5 mph and elevate up to 15%, your running, walking or jogging experience is truly customizable, down to the last detail. With 5 workout programs to choose from along with its Viafit connectivity and wireless heart rate features, all your bases are covered when you choose the TF30 as your workout partner. A true fitness club experience in your own home!
Matrix T30 Non-folding Treadmill w/XR Console(Legacy)
Regular price: $3,498.00
Dimensions (L x W x H): 72" x 35" x 62"
User Weight Capacity: 350 Lbs.
Warranty: Best in class lifetime warranty on frame, 5 years parts, 2 years labour 
Another model from Matrix's Legacy series, the T30 boasts all the coveted features of its foldable counterpart with a few modifications. With the same solid, durable construction as is standard with all Matrix treadmills, you'll find yourself comforted by its ability to keep up with your walking, jogging, or running needs for years to come. 
The same Johnson Drive System is available with this model — albeit at a slightly lower HP of 3.0 — giving you all the power you need to fuel your workouts easily. With a slightly lower incline range of 12% versus its foldable cousin's 15%, you'll still feel the burn you're seeking whenever you want to take it up a notch!
The XR console is available here, too, with the same customizable options to choose from; giving you the focus you need for your workout and saving you time when checking stats at a glance. Made by a company that strives to bring you a club experience in your own home, the Matrix T30 will not disappoint!
Purchasing Your Treadmill
So, now that you've seen some of our best treadmills from Spirit and Matrix, how do you go about making the right decision for you? The short answer is — that depends. 
There are many factors to consider in the treadmill purchasing process, and depending on your personal preferences, some may be more important than others. Finances, space, fitness level, features; all of these are important to consider, and every individual situation is unique.
Thankfully, we're here to help. Akfit has over three decades of experience helping people just like you find their perfect fit for fitness equipment — for homes and commercial facilities alike — and we love what we do! 
Whether you're shopping online or in our store, our consultants will walk you through the process from start to finish, ensuring you find the right treadmill for your fitness needs, space, and budget. 
We make sure you're completely satisfied with your decision before sending you home with your purchase, and we won't stop there! Our technicians not only deliver and assemble your treadmill (or other equipment) for you, but they'll make sure you know how to use it safely as well. Not to mention, we offer additional plans for regular maintenance to ensure your products continue to function properly.
To find the best treadmill for you, whether it be a Spirit, Matrix, or one of our other brands here at Akfit, we'd love to help. Reach out to us and book a virtual consultation, email us, or talk to us on the phone. 
We're looking forward to hearing from you and getting you started — or helping you continue — on the road to your fitness goals with one of our amazing treadmills!