The Elliptical Machine: How Much Does It Cost?
There are many great reasons to add an elliptical machine to your home gym. Ellipticals bring numerous benefits, from boosting stamina to burning calories. If you're thinking of purchasing an elliptical a primary consideration might be the price. How much do these machines cost and are they worth your investment?
As a specialty fitness store experienced with a wide range of gym equipment, Akfit sells ellipticals that produce top results for fitness-minded consumers throughout Canada and beyond. We help furnish commercial and home gyms with top-quality products designed for better health and improved well-being.
We want to make sure that Akfit clients know what to expect when it comes to the cost of an elliptical machine and are able to find what they're looking for within their budget. 
Whether you're a fitness enthusiast who wants safe, accessible equipment for your workout routines, or a business owner who runs a growing gym that strives to meet the diverse needs of your customers, cost is a factor in your equipment-buying decisions. We've compiled this article to help you make an informed decision when purchasing ellipticals and other fitness machines.
In this article …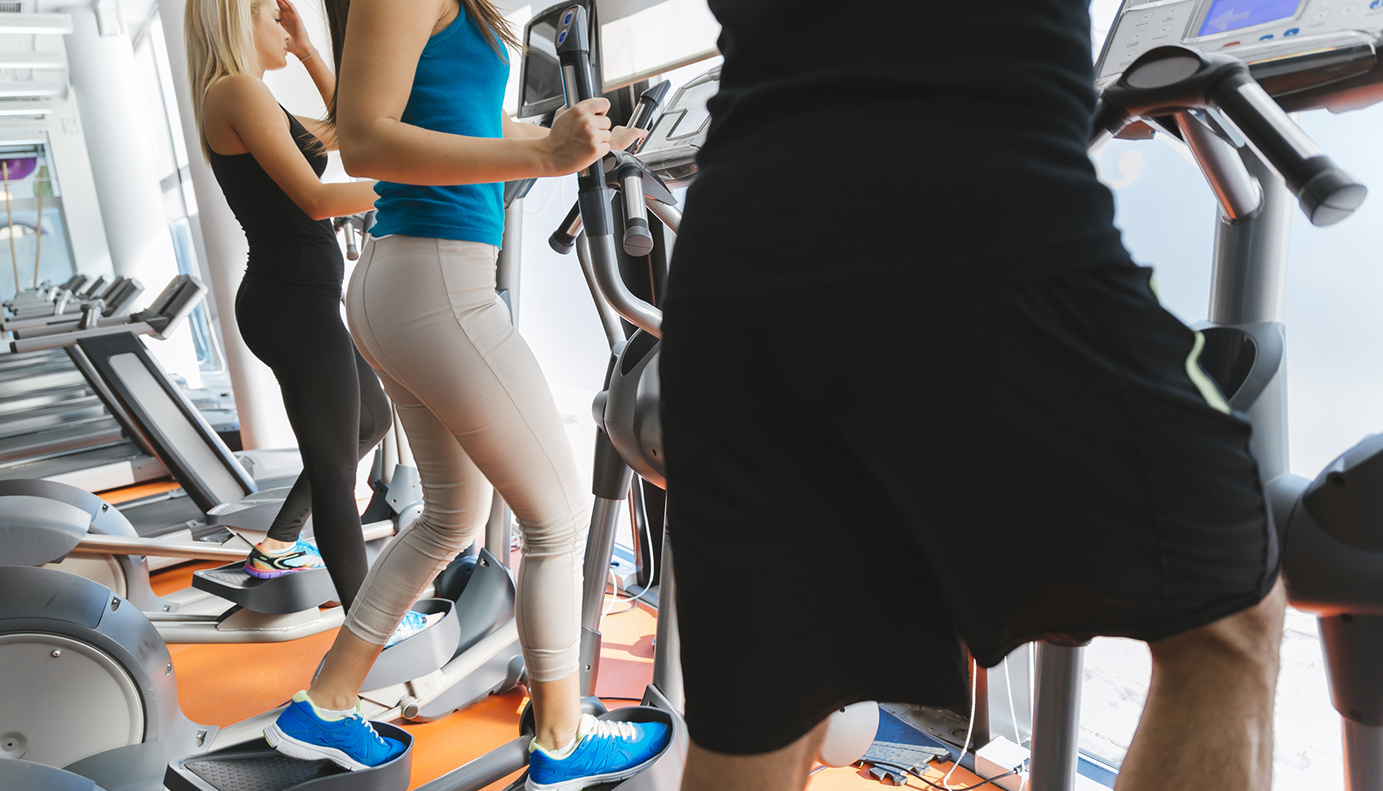 Elliptical Machines: What Are They?
Also referred to as a cross-trainer or an elliptical trainer, an elliptical machine is a stationary exercise machine that's used for walking, running, or stair climbing. 
It's extremely useful in colder climates where being outdoors isn't practical year-round. Fitness enthusiasts rely on their ellipticals when temperatures outside drop to dangerous lows or the ground is covered in deep snow. It's also a great option when rain, excessive heat, high winds, poor air quality, and other factors the great outdoors can present make it better to exercise safely inside.
Working out in  excessive heat outdoors can lead to heat cramps, heat exhaustion, and worse. Exercising outside on days when pollution levels are high can lead to headaches, eye irritation, lung issues, and other problems. 
When it's frigid cold outside and winds create a dangerous chill effect, the  risk of frostbite and hypothermia becomes very real. Even if the temperatures aren't too cold, you risk falling and injuring yourself if you try to run across icy pavement or up slippery steps. It's the same with trying to run in rainy conditions; slips and falls become a risk. 
Because you can't count on ideal weather for outdoor runs, an elliptical trainer can be a great investment for you. It's equipment that can be used indoors any time you're ready for a good workout, regardless of conditions outside. You don't even have to worry about trying to look presentable to the outside world! Simply focus on your workout and then enjoy a shower and comfy post-workout loungewear for casual, at-home ease.
What Are Ellipticals Used For?
One of the primary reasons people use elliptical machines is for cardio exercise. With ellipticals you can get a great aerobic workout that fosters heart and lung health while protecting your joints, since they are low-impact machines.
People use ellipticals for many reasons, including:
Burning calories

Keeping fit

Losing weight

Training for competitions

Getting a full-body workout

Varying up fitness routines

Recovering from injuries

Improving stamina

And more
Benefits of an Elliptical Machine
Since elliptical machines provide you with an excellent aerobic workout, they offer numerous benefits. Some of the benefits you might gain from regular sessions on ellipticals include the following:
Reducing belly fat

Getting into shape

Maintaining your ideal weight

Improving your balance and posture

Working out your quadriceps

Getting a great cardio workout while protecting your knees, ankles, and other joints

Achieving better mobility and flexibility

Strengthening muscles in your legs and arms

Working your core

Boosting your aerobic capacity

Strengthening your musculoskeletal systems

A full-body workout

Increasing cardio endurance

A safer cardio option while recovering from injury
The low-impact, intense workout an elliptical trainer provides is a huge plus for many fitness buffs who crave energetic, full-body workouts but want to protect their joints. People recovering from recent injuries or dealing with knee or ankle injuries that happened long ago can benefit greatly from a healthy workout on an elliptical machine.
How Ellipticals Can Help With Your Fitness Goals
Because elliptical trainers are adjustable, you can target specific muscles you want to work on the most. 
This equipment offers you a great deal of control so you can customize your routines to focus on specific fitness goals. Most ellipticals provide pre-programmed exercise options that allow you to climb a hill, run up stairs, go on a power walk, and much more, all from the convenience of your home gym or local neighborhood gym. 
Because you can change the settings, you can adjust the intensity level and speed of your workout. Adjusting resistance levels lets you target which muscles will have to do more work during a routine. Possible settings include:
Manual: Which lets you adjust resistance levels and workout duration to your preferences

Heart rate: When you want to reach a specific heart rate target

Interval: Ideal for burning calories and fat 

Performance: Great for endurance athletes and anyone who wants to increase stamina

Variety: When you want a little of everything in your workout routine

Weight loss: To help you achieve and maintain your ideal weight
With an elliptical trainer, you can burn a lot of calories in a short length of time, making this equipment a favorite among those who want to get into shape quickly, as well as a great addition to any weight loss program. 
Whether you want to take it slow and easy to work back up to speed while recovering from an injury or illness, or you want to go fast and intense to train for an upcoming race or sports event, ellipticals give you the flexibility you need to reach whatever fitness goals you set for yourself. 

Factors That Affect the Cost of Elliptical Machines
With many different models available in a range of prices, you may be wondering why costs vary from one piece of equipment to another. There are several factors to consider.
New vs. Used
First, you may notice a significant difference in price between new and used elliptical trainers. Some people opt for brand-new equipment because they want to be the original owners with all the perks this option comes with, including better responsiveness, greater reliability, and less wear and tear. Others are fine with gently used second-hand equipment.
If you find a used elliptical trainer offered at a very low price, be sure to ask plenty of questions and check out the equipment thoroughly before making a purchase. Has it been properly maintained? Are all the pieces sturdily in place, or are there loose parts ready to fall off? Are all the settings available and working correctly? Prioritize quality and safety before pulling the trigger on purchasing used equipment.
Quality
As with any fitness equipment, the level of quality varies from one elliptical machine to another. At Akfit, we are mindful of providing our customers with  cardio exercise and gym equipment of the highest quality. We take fitness seriously and we select what we sell based on quality, reliability, durability, features, safety, and value for your money. 
Materials & Construction
The materials that go into making fitness equipment affects how much that equipment will cost. In general, people looking for an elliptical trainer for their home or commercial gym want equipment that's:
Well-balanced and will not tip over

User-friendly 

Made of lightweight yet very strong materials

Able to hold up to rigorous workouts

Responsive to speed and resistance adjustments

Comfortable and easy to grip
Features
Different models come with different features, and this will also affect the price. An elliptical machine with more electronic options and programs available will cost more than a basic one. Stationary versus movable arms also makes a difference in cost. The type of resistance mechanism present and whether there's a front or rear drive system will also influence the price. 
Other Considerations
The above listed factors are the primary considerations that affect how much an elliptical trainer costs, but there may be others, too. 
Sometimes a factory overproduces, and to sell equipment faster, prices may go on sale. Other times demand is higher than a factory can keep up with, and prices may go up. Where the equipment was made is another consideration, since each region has its own economy with its own set of expenses in place. Shipping costs also factor in.
Cost of an Elliptical Industry Wide
You'll find big variations in costs throughout the industry. Don't be surprised to find ellipticals for just under $100 to well above $10,000. 
You're best off staying away from anything under a hundred bucks. These machines will not be quality-built, and they may be unsafe, unreliable, unbalanced, and made from questionable materials.
And if you're paying more than ten thousand dollars for an elliptical trainer, you are probably paying too much. 
The majority of ellipticals fall within the following ranges: 
Budget: $500 to $1,000
Medium: $1,000 to $2,500
Quality: Over $2,500
Cost of an Elliptical at Akfit
Since we're serious about fitness, Akfit opts for providing clients with the best ellipticals available without going into excessive territory. Our elliptical machines are selected for durability, performance, safety, range of features, adjustability, comfort, reliability, and quality. 
Our ellipticals range in price from just under $1,200 on sale, to just under $3,700. This gives our clients a range of options that lets them strike the right balance between cost and features. 

Buying Your Elliptical
If you're ready to move forward with buying an elliptical machine from Akfit for your home gym or commercial business, we invite you to  contact us and talk with one of our fitness experts. We can help you find your ideal elliptical trainer that aligns with your fitness goals and meets your cost expectations.
Akfit products and services are offered to fitness enthusiasts of all levels. Whether you're just getting started with your fitness goals or you're a lifelong athlete, we're here to help you reach your potential. In addition to serving individuals, we regularly work with  commercial clients who prefer to deal with a highly knowledgeable equipment provider. 
For quality equipment and exceptional service, reach out to Akfit today.